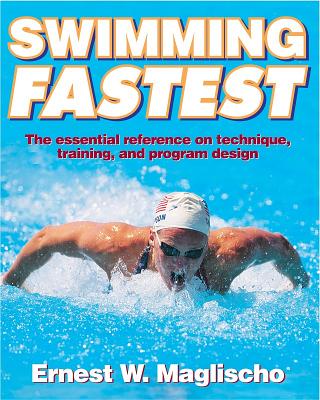 Swimming Fastest (Hardcover)
The Essential Reference on Technique, Training, and Program Design
Human Kinetics Publishers, 9780736031806, 800pp.
Publication Date: January 22, 2003
* Individual store prices may vary.
Description
Let one of the world's greatest swimming coaches teach you how to perfect your competitive strokes
In Swimming Fastest--a revised and updated version of one of the best books ever written on competitive swimming--author Ernest Maglischo reveals the science behind the training principles that led his teams to 13 NCAA national championships at the Division II level and 19 conference championships.
This book is the definitive reference on stroke technique and training methods for swimming. It shows you how to apply scientific information to the training process so that you can swim stronger and faster. Swimming Fastest addresses not only the how but also the why of training. It's the one source that you can turn to for reliable information about hydrodynamics and exercise physiology, giving you all the information you need to evaluate present and future concepts of training and stroke mechanics.
Swimming Fastest covers every aspect of competitive swimming. The book is heavily illustrated, with more than 500 illustrations and photos featuring world-class swimmers. Sequences of photos taken from the front, side, and underneath views show you exactly how to perform competitive strokes, starts, and turns.
This book is a source that coaches and athletes will pull down from their shelves again and again for reference. In part I Maglischo masterfully explains the mechanics of competitive swimming. He presents detailed technique analysis of the four primary strokes: freestyle, backstroke, breaststroke, and butterfly. He also explores the roles of stroke rate, stroke length, and drag reduction and reevaluates the role of lift forces and the Bernoulli principle in swimming propulsion. He explains the complex relationship between stroke length and stroke rate and swimming speed, and he reviews recent findings on the physical basis of swimming propulsion and the techniques that swimmers use to apply propulsive force.
Part II explains the physiology behind the most effective training methods and provides detailed sample workouts and training programs for each event. Maglischo provides critical information to help you train more accurately and monitor your training more effectively. He evaluates current training theory, explaining why the anaerobic threshold theory of training needs revision and why muscle fiber types are important to swim training. Maglischo also presents important new studies that define the relationship between endurance and sprint training, and he suggests their implications for training.
Part III addresses topics that pertain specifically to competition and racing. Maglischo shares his insights and recommendations for pre-race tapering, establishing race pace, racing strategies, and post-race routine.
Every swimming coach and serious swimmer will benefit from this book. Swimming Fastest will be the first resource you turn to when you want to trim precious seconds off your best times.

About the Author
Ernest W. Maglischo coached swimming for 38 years, working at four universities and two swim clubs. He has won 13 NCAA national championships at the Division II level and 19 conference championships. In 1996 he was honored as the Pacific 10 Conference Swimming Coach of the Year, and he has been named NCAA's Division II coach of the year an unprecedented eight times. He has also received the highest coaching award, the National Collegiate and Scholastic Swimming Trophy.Maglischo holds a PhD in exercise physiology from the Ohio State University. He's a member of the College Swimming Coaches Association, the American Swimming Coaches Association, and U.S.A. Swimming, where he serves on the Sports Medicine Committee. Now retired, Maglischo lives in Phoenix, Arizona.
or
Not Currently Available for Direct Purchase