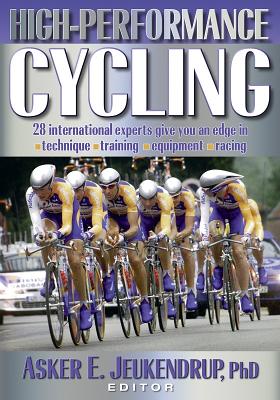 High-Performance Cycling (Paperback)
Human Kinetics Publishers, 9780736040211, 320pp.
Publication Date: April 1, 2002
* Individual store prices may vary.
Description

High-Performance Cycling is all about going faster and pushing the limits of your ability. If you want the latest training, equipment, and technique used by the best cyclists in the world, then this is the book for you.
High-Performance Cycling presents the latest applied research on cycling biomechanics, aerodynamics, testing, training, injuries, nutrition, equipment, and racing from top cycling experts from Europe, North America, and Australia. Everything in the book will have a direct effect on your performance. You'll learn how to
- test your potential,
- design a program to meet your racing goals,
- monitor your training progress and program effectiveness,
- improve the aerodynamics of your riding position,
- fuel your body properly for better racing performance, and
- stay-injury free and avoid the pitfalls of overtraining.
You'll also learn which aspects of cycling are most important--and which improvements will most directly affect your cycling performance. High-Performance Cycling gives you a better idea of what the pro teams do so that you can improve your own performance
About the Author
Asker E. Jeukendrup is a recognized authority on biochemistry and exercise physiology for cyclists. He has served as scientific adviser to the Rabobank professional cycling team--one of the top cycling teams in the world--and as nutrition consultant to U.K. Athletics and numerous Olympic athletes. More than 50 of his articles have been published in peer-reviewed journals.Jeukendrup received his PhD in health sciences in 1997 in Maastricht, Netherlands, and is currently a lecturer in the school of sport and exercise sciences at the University of Birmingham in the United Kingdom. He was already an avid cyclist when he first entered the fields of exercise physiology and sport nutrition. In his work, he endeavors not only to perform cutting-edge research but also to translate his findings into terms that will be directly useful for athletes. In his free time, Jeukendrup enjoys cycling, traveling, and competing in triathlons. He and his wife, Antoinette, live in Birmingham, England.
or
Not Currently Available for Direct Purchase