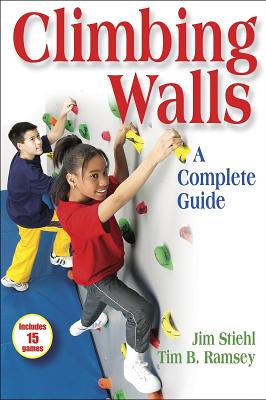 Climbing Walls (Paperback)
A Complete Guide
Human Kinetics Publishers, 9780736048316, 184pp.
Publication Date: September 28, 2004
* Individual store prices may vary.
Description
Climbing Walls is the complete guide for instructors, administrators, and anyone responsible for supervising an indoor climbing wall in their recreation center, school or university, camp, or community setting. Instructors and administrators can use this book to
- design and select equipment options for climbing walls based on up-to-date industry standards and guidelines;
- customize their walls to accommodate the needs of their sites or situations;
- operate and maintain their walls;
- develop and implement operating procedures; and
- teach basic climbing skills and 15 activities and games to diverse populations.
Climbing Walls also provides program leaders with information they can use to advocate for a climbing wall program: detailed descriptions of the health and social benefits of climbing wall programs and a wealth of reproducible forms that make it easy to administer the program for participants of all ages.
Instructors get information on responsibilities, equipment, and planning and supervising activities for a diverse clientele. Administrators receive not only the current industry standards and details about designing a spectrum of walls, but also practical guidance on cost considerations, administrators' responsibilities, staff training and supervision, and risk-management plans.
Wall climbing is a thrilling fitness activity that strengthens the body, challenges the mind, and lifts the spirit. Climbing Walls provides instructors and administrators with all the information they need to create their own climbing wall programs and challenge participants.

About the Author
Jim Stiehl, PhD, is a professor in the School of Sport and Exercise Science at the University of Northern Colorado (UNC). Stiehl is a climbing instructor and challenge course director at UNC and has related experience as an instructor for the National Outdoor Leadership School. Stiehl is former chair of the Council on Outdoor Education for the American Alliance for Health, Physical Education, Recreation and Dance (AAHPERD). He was named Scholar of the Year in 1993 for the Central District Association of HPERD and has received several research and writing excellence awards. He resides in Greeley, Colorado, with his wife, Julie, and enjoys backpacking and hiking, backcountry skiing and snowshoeing, and rock climbing and mountaineering in his leisure time.Tim B. Ramsey, MSE, is a lecturer in the School of Sport and Exercise Science at the University of Northern Colorado (UNC). A longtime rock climber and mountaineer himself, Ramsey has taught rock-climbing activity classes at the college level since the late 1970s. As an outdoor and adventure educator, he also has taught rock-climbing fundamentals to a variety of populations, including college, high school, and adjudicated youths. Ramsey, a member of AAHPERD, lives in Greeley, Colorado, with his wife, Melissa. He stays active outdoors through mountaineering, backcountry skiing, and hunting.
or
Not Currently Available for Direct Purchase