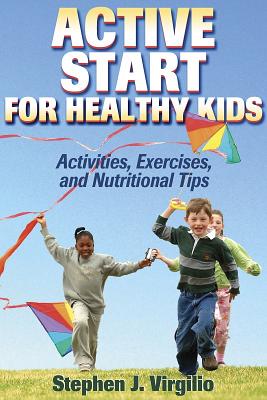 Active Start for Healthy Kids (Paperback)
Activities, Exer & Nutrtnl Tips
Human Kinetics Publishers, 9780736052818, 240pp.
Publication Date: August 5, 2005
* Individual store prices may vary.
Description
When it comes to physical activity and proper nutrition, young children need more encouragement and structure than ever before--especially in a culture inundated by video games, television, and fast food. Active Start for Healthy Kids: Activities, Exercises, and Nutritional Tips contains a wealth of fun, easy-to-implement activities that are specifically designed to teach 2- to 6-year-old children important health concepts. With this book as your guide, you can reach children in their formative years and help them develop positive behaviors that will last a lifetime.
Dr. Stephen Virgilio has been a children's health expert for more than 25 years. In this book he provides a wealth of safe, inexpensive, and developmentally appropriate activities that parents, teachers, and caregivers can implement:
- More than 50 developmental exercises and activities for flexibility,
muscular fitness, and cardiorespiratory endurance
- 20 fun family physical activities
- 16 motor skill activities
- 21 yoga poses and games
- 18 dance and rhythm activities
- The top 10 nutritional guidelines for parents and teachers
- Heart-healthy kids' recipes
Help children engage in exercise that will benefit them for years to come. Active Start for Healthy Kids: Activities, Exercises, and Nutritional Tips is the first step toward a fuller, longer, and better life for the next generation.
About the Author
Stephen J. Virgilio, PhD, is a professor and director of graduate studies at Adelphi University in Garden City, New York. He has researched and taught the issues surrounding children's health for more than 25 years and has served as a consultant to companies such as Fisher-Price, Sport-Fun, and Dannon Yogurt as well as to school districts across the country. Dr. Virgilio codeveloped and authored the nationally known Heart Smart Program, a comprehensive health-intervention project at the elementary school level. He also served as the coauthor of the National Association for Sport and Physical Education's (NASPE) Active Start Guidelines and wrote Fitness Education for Children, a book that teaches health-related fitness at the elementary school level. Dr. Virgilio has been quoted in numerous publications, including the LA Times, Chicago Tribune, and USA Today newspapers, as well as Child and Parenting magazines. He also has been a guest on several national broadcasts, including the radio program Parent Talk and ABC's 20/20. Since 1977, he has been a member of NASPE and the American Alliance for Health, Physical Education, Recreation and Dance (AAHPERD). Dr. Virgilio resides with his wife, Irene, in East Williston, New York.
or
Not Currently Available for Direct Purchase