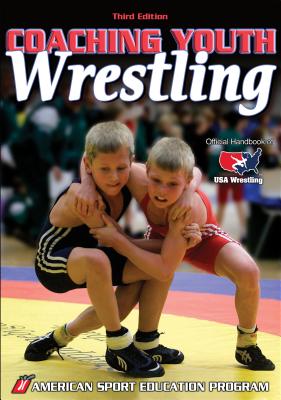 Coaching Youth Wrestling (Coaching Youth Sports)
Paperback

* Individual store prices may vary.
Description
Coaching Youth Wrestling, Third Edition, stresses fun, safety, and effective instruction, helping you create an environment that promotes learning, helps your kids enjoy their wrestling experiences, and motivates your wrestlers to come out year after year.
Ideal for coaches of wrestlers ages 8 to 14, Coaching Youth Wrestling teaches you how to convey folk-style wrestling skills to your athletes in an engaging and positive manner. Its focus on teaching fundamental wrestling skills and techniques through matchlike activities sets it apart from other wrestling coaching books. And it's the only one written with the expertise of USA Wrestling.
Sequenced and specific chapters help you learn, retain, and reference in a flash. And skill-teaching activities and more than 20 age-appropriate coaching tips are sure to bring focus and fun to your practices.
You'll get an in-depth look at wrestling fundamentals and the most effective teaching methods with updated and expanded information on coaching top and bottom techniques, coaching attacks and counterattacks, and teaching basic skills. A straightforward discussion of weight classes and safety considerations prepares you to help your wrestlers make weight using safe, age-appropriate methods.
The expertise of USA Wrestling, combined with essential coaching skills such as communicating with parents and officials, motivating players, and preparing for matches and practices, make this book a must-read as you prepare to meet the challenges and enjoy the rewards of coaching young wrestlers.
Human Kinetics, 9780736067119, 208pp.
Publication Date: October 12, 2007
About the Author
Coaching Youth Wrestling was written by the American Sport Education Program (ASEP) in conjunction with USA Wrestling. ASEP has been developing and delivering coaching education courses since 1981. As the nation's leading coaching education program, ASEP works with national, state, and local youth sport organizations to develop educational programs for coaches, officials, administrators, and parents. These programs incorporate ASEP's philosophy of "Athletes first, winning second."
USA Wrestling is the national governing body for the sport of wrestling in the United States and the central organization for the coordination and support of amateur wrestling programs in the nation. USA Wrestling works to increase appreciation for and participation in the international styles of wrestling (freestyle and Greco-Roman) as well as folk-style wrestling. USA Wrestling has more than 159,000 members, including athletes of all ages, coaches, officials, and parents.
or
Not Currently Available for Direct Purchase