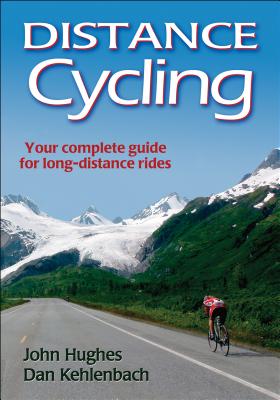 Distance Cycling (Paperback)
Human Kinetics Publishers, 9780736089241, 259pp.
Publication Date: June 27, 2011
* Individual store prices may vary.
Description
Century, brevet, cross-state, ultradistance--there is only one book that covers them all. Distance Cycling is a comprehensive guide for planning, training, and competing in long-distance events.
Long-time distance cycling great John Hughes, an endurance coach and sport science expert, and coach Dan Kehlenbach team up to cover the sport from every angle. Combining sport science, including the latest research on training and conditioning, with hands-on advice for planning and performance, Distance Cycling will ensure you get the most from every ride.
With Distance Cycling, you will learn how to
-select the distance events best suited to you;
-prepare yourself for the physical and psychological demands of the sport;
-train for century rides and brevets using the 8- and 15-week conditioning programs; and
-conquer grueling ultradistance rides.
You'll also learn how to fuel properly before, during, and after events; how to select the best equipment for your ride; how to perform basic roadside maintenance on your bike; and how to avoid the most common injuries in distance cycling.
Before you ride, read this book. As the ultimate guide for the ultimate sport, Distance Cycling will help you ride longer, stronger, and more comfortably in every event.
About the Author
John Hughes has been an endurance cyclist since 1975, spending 15 of those years as a coach and trainer. For 12 years he served as the managing director of the UltraMarathon Cycling Association (UMCA), the founding organization of the transcontinental Race Across America (RAAM). As UMCA director, Hughes developed the popular century challenge, encouraging cyclists to ride 100 miles every month. Hughes has twice competed in RAAM and has twice won the Furnace Creek 508, a 508-mile RAAM qualifying event. Among his other accomplishments are seven 1,200-kilometer randonnées, including a course record for the Boston-Montreal-Boston route. For 10 years Hughes organized and led supported tours of the West and Southwest. He also explored the West on self-supported tours on a loaded touring bike. Hughes has been certified as a USA Cycling sport coach and a National Strength and Conditioning Association personal trainer. Hughes has coached numerous riders, from people preparing for their first centuries to dozens of top RAAM finishers. He lives in Boulder, Colorado. Dan Kehlenbach has been coaching cyclists and other endurance athletes since 1995. He has certifications through USA Cycling as a level 2 coach and the National Strength and Conditioning Association as a strength and conditioning specialist (CSCS). He earned his master's degree in sports medicine from the United States Sports Academy in Daphne, Alabama. Kehlenbach spent four years with the U.S. Coast Guard, serving as the strength and conditioning instructor for the recruit training program in Cape May, New Jersey. He also represented the Coast Guard in cycling races, duathlons, triathlons, and running events. As a contributing editor for UltraCycling, the official magazine of the UMCA, Kehlenbach wrote numerous articles on training and conditioning, specializing in articles that demystify the complexities of sport science.