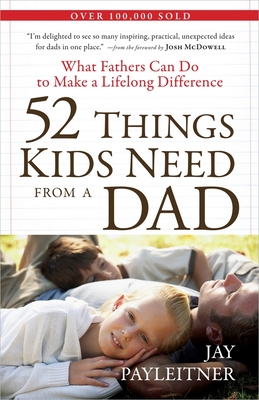 52 Things Kids Need from a Dad (Paperback)
Harvest House Publishers, 9780736927239, 187pp.
Publication Date: March 1, 2010
* Individual store prices may vary.
Description
"God, please help me...another game of Candy Land..."
Quite a few dads spend time with their kids. However, many have no clue what their kids really need.
Enter author Jay Payleitner, veteran dad of five, who's also struggled with how to build up his children's lives. His 52 Things Kids Need from a Dad combines straightforward features with step-up-to-the-mark challenges men will appreciate:
a full year's worth of focused, doable ideas--one per week, if desired
uncomplicated ways to be an example, like "kiss your wife in the kitchen"
tough, frank advice, like "throw away your porn"
And, refreshingly...
NO exhaustive (and exhausting) lists of "things you should do"
NO criticism of dads for being men and acting like men
Dads will feel respected and empowered, and gain confidence to initiate activities that build lifelong positives into their kids. Great gift or men's group resource
About the Author
Jay Payleitner is one of the top freelance Christian radio producers in the United States. He has worked on Josh McDowell Radio, Today's Father, Jesus Freaks Radio for the Voice of the Martyrs, Project Angel Tree with Chuck Colson, and many others. He's also a popular speaker on parenting and marriage and the author of dozen-plus books, including the bestselling 52 Things Kids Need from a Dad, 52 Things Wives Need from a Husband, and 52 Things Sons Need from Their Dad; he also created "The Dad Manifesto." Jay has also served as an AWANA director, a wrestling coach, and the executive director of the Illinois Fatherhood Initiative; he now partners with the National Center for Fathering, whose efforts he fosters and promotes. He and his wife, Rita, live near Chicago, where they've raised five great kids and loved on ten foster babies.