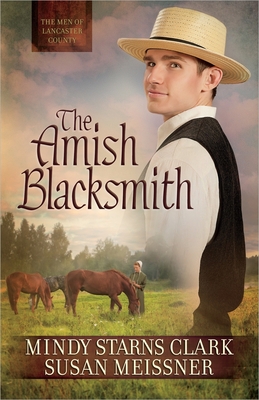 The Amish Blacksmith
Volume 2 (Men of Lancaster County #2)
Paperback

* Individual store prices may vary.
Description
New from bestselling authors Mindy Starns Clark and Susan Meissner, The Amish Blacksmith (Book 2 in The Men of Lancaster County series) explores the men of an Amish community in Lancaster County, how their Amish beliefs play out in their unique roles, and the women who change their lives.
Apprenticed blacksmith Jake Miller is skeptical of Priscilla Kinsinger's innate ability to soothe troubled horses, especially when he has own ideas on how to calm them. Six years earlier, Priscilla's mother died in an awful accident at home, and Priscilla's grief over losing her mother was so intense that she was sent to live with relatives in Indiana. She has just returned to Lancaster County.
Not that her homecoming matters to Jake, who is interested in courting lighthearted Amanda Shetler. But Jake's boss is Priscilla's uncle, and when the man asks Jake to help his niece reconnect with community life, he has no choice but to do just that. Surprisingly, he finds himself slowly drawn to the beautiful but emotionally wounded Priscilla.
Jake then determines to prove to her that it's not her fault her mother died, but what he discovers will challenge everything they both believe about the depth of love and the breadth of forgiveness.
Harvest House Publishers, 9780736957366, 352pp.
Publication Date: August 1, 2014
About the Author
Mindy Starns Clark is the bestselling author of more than 20 books, both fiction and nonfiction, with over a million copies sold. Mindy and her husband, John, have two adult children and live in Pennsylvania. www.mindystarnsclark.comSusan Meissner is a multi-published author, speaker, and writing workshop leader with a background in community journalism. Her novels include The Shape of Mercy, named by Publishers Weekly as one of the 100 Best Novels of 2008 and a Carol Award winner. She is a pastor's wife and the mother of four young adults. When she's not writing, Susan writes small group curriculum for her San Diego church. Visit Susan at her website: www.susanmeissner.com, on Twitter at @SusanMeissner, or at www.facebook.com/susan.meissner.