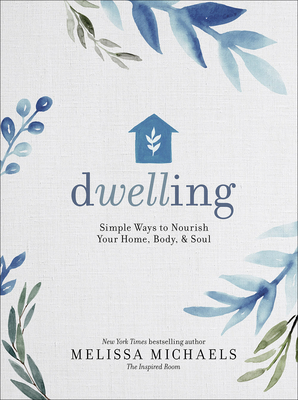 Dwelling (Hardcover)
Simple Ways to Nourish Your Home, Body, and Soul
Harvest House Publishers, 9780736963190, 224pp.
Publication Date: April 2, 2019
* Individual store prices may vary.
Description
Feel Well Where You Dwell

Our dwellings--both our home and body--are intricately connected. Each has the potential to inspire the other to be its very best

Your home is where your life happens. Learn how to create a sanctuary that inspires your well-being, so you can experience a greater sense of peace, comfort, and belonging.

Your body, including your mind and soul, needs daily nourishment to help you feel healthy and happy. You'll discover simple ways to make self-care a priority in your home.

Melissa Michaels wants to show you how meaningful it can be to live a life that nurtures both your home and body. By making a series of small, intentional choices--from what you bring into your home to how you shape your daily habits and mind-sets--you can create a more rejuvenating environment that equips you to go into the world and accomplish all you set out to do.

Dwelling will help you
learn to better care for your home environment so it takes care of you
make decisions that simplify your life
create more peace in your day
invest in relationships that make you feel positive, challenged, and supported
lean into faith for strength and renewal
When you discover the connection between your home and body and the action steps you can take to improve both, you'll be on your way to a more balanced and happy life


About the Author
Melissa Michaels is the creator of The Inspired Room, voted the 2015 and 2014 Better Homes and Gardens Readers' Favorite Decorating Blog. With creative, simple ideas for decorating and organizing the home, she inspires more than half a million women each month. Melissa is also the author of the New York Times bestseller Love the Home You Have, Make Room for What You Love, and The Inspired Room coffee table book. She and her husband live in Washington, where they planted a church in 2009.