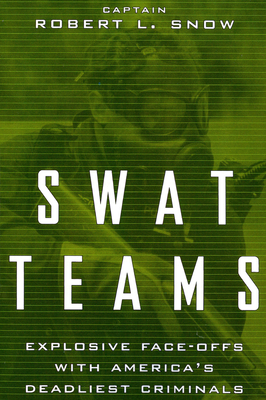 Swat Teams (Paperback)
Explosive Face-offs With America's Deadliest Criminals
Da Capo Press, 9780738202624, 318pp.
Publication Date: December 24, 1999
Other Editions of This Title:
Paperback (1/1/1996)
* Individual store prices may vary.
Description
Ever since Charles Whitman gunned down over a dozen innocent people in 1966 from his perch atop the University of Texas clock tower, "SWAT team" has become a household word. In this compelling book, police veteran Robert L. Snow takes us into the midst of the nation's heroic SWAT teams, allowing us to eavesdrop on harrowing negotiations between killers and cops. He gives us a balanced look at what SWAT teams do right and what they do wrong and recommends ways to improve their tactics in future hostage situations. While he gives no-holds-barred analyses of such dire failures as Waco, he also celebrates SWAT's greatest triumphs—thousands of incidents in which no one was hurt. No policeman or citizen can afford to miss this harrowing yet hopeful look at society's main weapon against sudden terror.
About the Author
Captain Robert L. Snow is presently head of the Homicide Branch of the Indianapolis Police Department and has been a police officer in Indianapolis for over 30 years. During this time he has worked as a field officer, field sergeant, field lieutenant, field captain, Coordinator for the Field Training Officer Program, Commander of the Planning and Research Branch, Administrative Assistant to the Chief of Police, Police Department Executive Officer, and Captain of Detectives. He is the acclaimed author of STOPPING A STALKER; FAMILY ABUSE; SWAT TEAMS; and PROTECTING YOUR LIFE, HOME AND PROPERTY; and has contributed articles to a wide variety of publications, including Reader's Digest, the Writer, Action Digest, the National Enquirer, the Saint Magazine, Law and Order, and Police, among others. Captain Snow graduated summa cum laude from Indiana University with degrees in criminal justice and psychology. He lives with his wife Melanie, a narcotics detective, in Indianapolis.