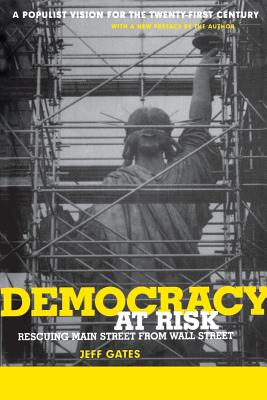 Democracy At Risk
Rescuing Main Street From Wall Street
Paperback

* Individual store prices may vary.
Description
"A bible for a powerful populism that will arise after the latest Gilded Age is over. Read it and run, or read it and recover your sense of what it could mean to actually live in a democratic society." -- Paul Hawken, author, Natural Capitalism and The Ecology of Commerce

"[Gates] offers an ambitious "populist vision." You may not like its answers, but you can't ignore the questions." -- Cheryl Dahle, Fast Company

"A political-economic manifesto for the new millennium. This persuasive and well-documented work will generate thoughtful discussion." -- Library Journal

Citing alarming statistics, Jeff Gates convincingly argues that the current economic boom is largely a mirage, buoyed by policies that continue to reward the wealthy and punish the poor. With equal measures of passion and incisive reasoning, he proposes an ambitious yet practical program of financial, political, and economic reform.
Basic Books, 9780738204833, 464pp.
Publication Date: April 20, 2001
About the Author
Jeff Gates is a lawyer, investment banker, political advisor, and consultant to government, union, and industry leaders worldwide. As counsel to the U.S. Senate Committee on Finance during the 1980s he was a leading fiture of the federal legislation encouraging employee stock ownership plans (ESOPs).