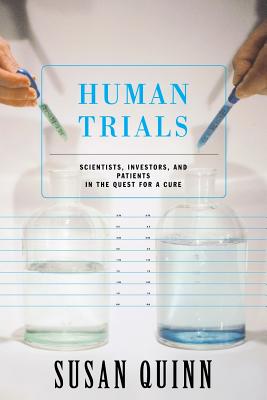 Human Trials
Scientists, Investors, And Patients In The Quest For A Cure
Paperback

* Individual store prices may vary.
Description
Over fifty million people suffer from some form of autoimmune disease-multiple sclerosis, arthritis, lupus, and other afflictions in which the body attacks itself-none of them with a lasting cure. Susan Quinn has investigated the worlds where new autoimmune drugs are being developed: the research labs, the drug-company boardrooms, and the clinics where patients become "subjects" in the search for new medicines and treatments. Her exciting story is one of real people: fiercely competing scientists, ambitious venture capitalists, and, above all, anxious, sick human beings. She takes the reader inside these otherwise closed worlds, into the lead investigator's diaries, the tense closed-door meetings with investors, and the hopeful or heart-rending encounters in doctor's offices. Hers is the archetypal story of all medical research: the roller-coaster trip from the lab bench to the medicine cabinet, in which only a very few new drugs and treatments survive. Susan Quinn, author of the acclaimed biography Marie Curie, catches the hopes, triumphs, and crushing failures, the greed and the idealism in these dramatic human trials.
Da Capo Press, 9780738206776, 320pp.
Publication Date: April 26, 2002
About the Author
Susan Quinn is the author of the highly praised biographies A Mind of Her Own: The Life of Karen Horney and Marie Curie: A Life. She lives in Brookline, Massachusetts.