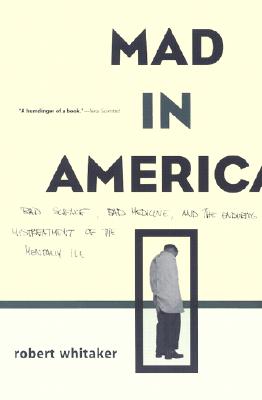 Mad In America (Paperback)
Bad Science, Bad Medicine, And The Enduring Mistreatment Of The Mentally Ill
Basic Books, 9780738207995, 352pp.
Publication Date: January 1, 2002
Other Editions of This Title:
Paperback (9/10/2019)
* Individual store prices may vary.
Description
In Mad in America, medical journalist Robert Whitaker reveals an astounding truth: Schizophrenics in the United States currently fare worse than patients in the world's poorest countries, and quite possibly worse than asylum patients did in the early nineteenth century. With a muckraker's passion, Whitaker argues that modern treatments for the severely mentally ill are just old medicine in new bottles, and that we as a society are deeply deluded about their efficacy. Tracing over three centuries of "cures" for madness, Whitaker shows how medical therapies have been used to silence patients and dull their minds. He tells of the eighteenth- and nineteenth-century practices of "spinning" the insane, extracting their teeth, ovaries, and intestines, and submerging patients in freezing water. The "cures" in the 1920s and 1930s were no less barbaric as eugenic attitudes toward the mentally ill led to brain-damaging lobotomies and electroshock therapy. Perhaps Whitaker's most damning revelation, however, is his report of how drug companies in the 1980s and 1990s skewed their studies in an effort to prove the effectiveness of their products. Based on exhaustive research culled from old patient medical records, historical accounts, numerous interviews, and hundreds of government documents, Mad in America raises important questions about our obligations to the mad, what it means to be "insane," and what we value most about the human mind.
About the Author
Robert Whitaker is a science journalist and the author, most recently, of Mad in America. He has won the George Polk Award for Medical Writing and a National Association of Science Writers' Award for best magazine article. He was a finalist for the 1998 Pulitzer Prize for Public Service, considered journalism's top prize. He has also published more than twenty short stories in literary magazines such as the Indiana Review, Black Warrior Review, Florida Review, and Columbia: A Magazine of Poetry and Prose. His long fascination with South America began in the late 1970s, when he built and lived in a bamboo hut on the Ecuadorian coast. He now lives and writes in Cambridge, Massachusetts.
or
Not Currently Available for Direct Purchase