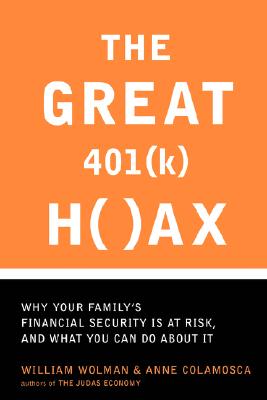 The Great 401 (k) Hoax
Why Your Family's Financial Security Is At Risk, And What You Can Do About It
Paperback

* Individual store prices may vary.
Description
According to business and finance journalists Bill Wolman and Anne Colamosca, the American public has been hoodwinked: 401(k)s, the most popular mechanism for retirement investing, were established to satisfy corporate, not individual, interests. They are replacing defined benefit-pension plans at an alarming rate and are vulnerable to the vicissitudes of the market, which -- if history serves as our guide -- is destined for at least a decade of lackluster performance. Drawing on primary historical and contemporary data, Wolman and Colamosca build a compelling case against the 401(k) as a tool for ensuring long-term financial security. They urge individuals and families to diversify their savings and investments, building conservative portfolios that include bonds, high-dividend stocks, and savings. In the process, they explore the colorful social history of our love-hate relationship with the stock market and address many key questions facing any family today, such as: How do I accumulate enough wealth to educate my children and retire comfortably? How secure are my sources of income and how can I anticipate change? Timely and incisive, The Great 401(k) Hoax is guaranteed to inspire debate and action from the water cooler to the boardroom to the voting booth.
Basic Books, 9780738208527, 272pp.
Publication Date: April 3, 2003
About the Author
William Wolman is senior contributing editor at BusinessWeek magazine, where he served as chief economist during 1990s. An economics commentator for CNBC, he was recently named one of the leading business journalists of the century. Anne Colamosca is a former staff writer and reporter at BusinessWeek magazine. They live in New York City.