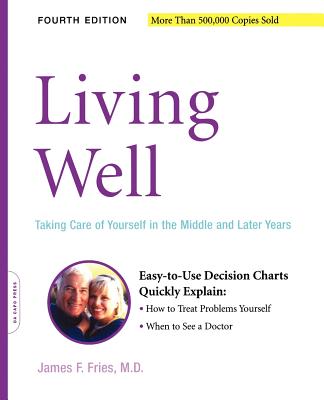 Living Well
Taking Care Of Yourself In The Middle And Later Years, 4th Edition
Paperback

* Individual store prices may vary.
Description
Advances in medical care allow us to live longer, but to enjoy life we need to stay healthy. Completely revised and updated, Living Well presents a thorough but manageable program for keeping in good mental and physical shape as we grow older. In Part I, Dr. James Fries includes the most up-to-date medical information about how many diseases associated with aging-such as osteoarthritis, diabetes, and atherosclerosis-can be avoided or put off with the latest medication and alternative treatment options. Part II addresses many other challenges that people in their middle and later years face-from planning for retirement, to keeping your mind active, to maintaining a healthy sex life, to writing a will. Finally, Part III provides easy-to-use decision charts- on everything from hip pain to incontinence to diet and exercise-that quickly help determine whether professional intervention is necessary or whether home treatment will suffice. Comprehensive and accessible, Living Well is the essential reference for promoting a long, happy, and healthy life.
Da Capo Press, 9780738209555, 384pp.
Publication Date: June 30, 2004
About the Author
James F. Fries, MD, is Professor of Medicine, Emeritus, at Stanford University. His work involves the study of health outcomes and how to improve them, prevention of disease by reduction in health risks, self-care techniques, and health economics. He has published over 300 scientific articles and eleven books.