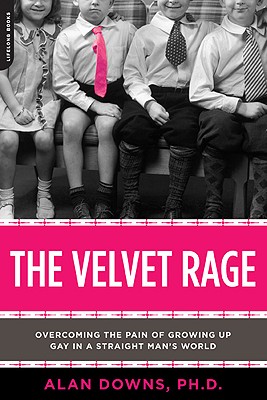 The Velvet Rage (Paperback)
Overcoming the Pain of Growing Up Gay in a Straight Man's World
Da Capo Lifelong Books, 9780738210612, 224pp.
Publication Date: April 25, 2006
Other Editions of This Title:
Digital Audiobook (6/11/2012)
Paperback (6/5/2012)
CD-Audio (6/12/2012)
Pre-Recorded Audio Player (7/1/2012)
Hardcover (5/24/2005)
* Individual store prices may vary.
Description
The gay male world today is characterized by seductive beauty, artful creativity, flamboyant sexuality, and, encouragingly, unprecedented acceptability in society. Yet despite the progress of the recent past, gay men still find themselves asking, "Are we really better off?" The inevitable byproduct of growing up gay in a straight world continues to be the internalization of shame, a shame gay men may strive to obscure with a fa?ade of beauty, creativity, or material success. Drawing on contemporary psychological research, the author's own journey to be free of anger and of shame, as well as the stories of many of his friends and clients, The Velvet Rage outlines the three distinct stages to emotional well-being for gay men. Offering profoundly beneficial strategies to stop the insidious cycle of avoidance and self-defeating behavior, The Velvet Rage is an empowering book that will influence the public discourse on gay culture, and positively change the lives of gay men who read it.
About the Author
Alan Downs, Ph.D., is a clinical psychologist practicing in Santa Fe, New Mexico. His fifteen years of treating clients have already been reflected in numerous books about both leadership and self-help. A personal and professional milestone, The Velvet Rage is his first book about the psychology of gay life.
Praise For The Velvet Rage: Overcoming the Pain of Growing Up Gay in a Straight Man's World…
"Those familiar with gay men will find a good deal of honest reporting here. Without being maudlin, Downs, himself a gay man, writes movingly."—Library Journal

"Peppered with deeply personal reflections... There's no doubt that the men profiled in this sober call for "owning the injury" of growing up gay in a straight world were helped by their counseling, or that there are certainly some readers who will find their own lives reflected in that healing."—Q Syndicate

"[An] excellent new book...The Velvet Rage is a chronicle of furtive pathos, anger, compensatory fabulousness, despair, sex addiction, and flickerings of hope as its wounded actors make their way by uncertain stages toward a light of authenticity and self-acceptance their culture does not want them to find or even see. In its pages, through anecdotal moments and analytical passages, one is constantly catching glints of people one has known, behaviors one has seen and heard firsthand and often been baffled and hurt by."—San Francisco Bay Guardian

"Dr. Alan Downs has some words of wisdom....Although unnerving at first, readers might feel kinship with the case study subjects and ultimately, become empowered by the lessons learned and by the self-realizations experienced."—New City Chicago

"While we can all hope that the collective experience will change in time, Downs' perspective is still all too relevant."—AOL's Book Maven
or
Not Currently Available for Direct Purchase