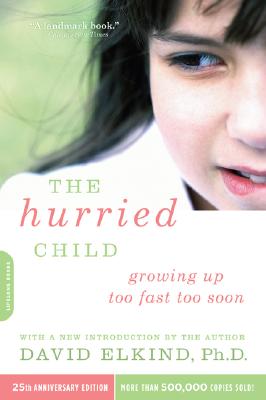 The Hurried Child (25th anniversary edition)
Paperback

* Individual store prices may vary.
Description
"David Elkind [is] one of psychology's leading lights."--Washington Post

With the first edition of The Hurried Child, David Elkind emerged as the voice of parenting reason, calling our attention to the crippling effects of hurrying our children through life. He showed that by blurring the boundaries of what is age appropriate, by expecting--or imposing--too much too soon, we force our kids to grow up too fast, to mimic adult sophistication while they secretly yearn for time to act their age.
In the more than two decades since this book first appeared, our society has inadvertently stepped up the assault on childhood through the media, in schools, and at home. In this twenty-fifth anniversary edition of this classic, Dr. Elkind adds important new commentary to put a quarter century of trends and change into perspective for parents today, including a detailed, up-to-the-minute look at the Internet, classroom culture, school violence, and movies and television. Showing parents and teachers where hurrying occurs and why, Elkind offers insight, advice, and hope for encouraging healthy development while protecting the joy and freedom of childhood.
"A landmark book."--Chicago Sun-Times

Praise For The Hurried Child (25th anniversary edition)…
Wall Street Journal, 9/4
"[The first book to] mourn the loss of play and leisure time [for kids]."

Washington Post, 11/5/09
"Read The Hurried Child by psychologist David Elkind. It explains the development of children so well and gives such good reasons for slowing them down that you'll want to give a copy to every parent you know."

Washington Post, 3/12/10
"To learn more about children and how they grow, read The Hurried Child…It's one of the great classics of parenthood." The Jewish Week, 6/23/10
"If you want to know more about the harmful effects of micro-managing our children's lives, read The Hurried Child…[Elkind's] main theme remains relevant more than 25 years after its initial publishing."
Da Capo Lifelong Books, 9780738210827, 288pp.
Publication Date: December 26, 2006
About the Author
David Elkind, Ph.D., is Professor Emeritus at Tufts University and the author of a dozen books, including The Hurried Child and All Grown Up and No Place to Go. He lives outside of Boston and on Cape Cod.