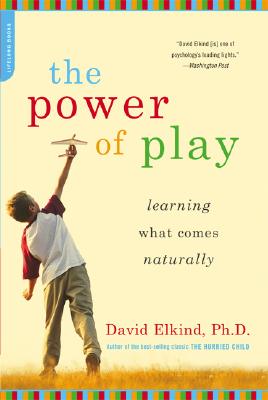 The Power of Play
Learning What Comes Naturally
Paperback

* Individual store prices may vary.
Description
In modern childhood, free, unstructured play time is being replaced more and more by academics, lessons, competitive sports, and passive, electronic entertainment. While parents may worry that their children will be at a disadvantage if they are not engaged in constant, explicit learning or using the latest "educational" games, David Elkind's The Power of Play reassures us that unscheduled imaginative play goes far in preparing children for academic and social success. Through expert analysis of the research and powerful situational examples, Elkind shows that, indeed, creative spontaneous activity best sets the stage for academic learning in the first place: Children learn mutual respect and cooperation through role-playing and the negotiation of rules, which in turn prepare them for successful classroom learning; in simply playing with rocks, for example, a child could discover properties of counting and shapes that are the underpinnings of math; even a toddler's babbling is a necessary precursor to the acquisition of language. An important contribution to the literature about how children learn, The Power of Play suggests ways to restore play's respected place in children's lives, at home, at school, and in the larger community. In defense of unstructured "down time," it encourages parents to trust their instincts and resist the promise of the wide and dubious array of educational products on the market geared to youngsters.
Da Capo Lifelong Books, 9780738211107, 256pp.
Publication Date: December 25, 2007
About the Author
David Elkind, PhD, is a professor emeritus of the Eliot-Pearson Department of Child Development at Tufts University and the author of more than a dozen books, including The Hurried Child and The Power of Play. Through his writings, media appearances, and lectures in the United States and abroad, he is recognized as one of the leading advocates for the preservation of childhood. He lives on Cape Cod.