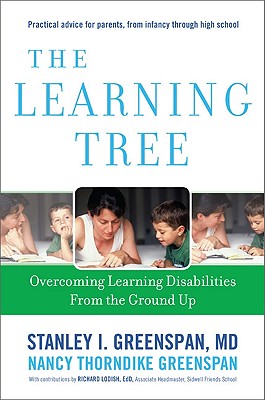 The Learning Tree (Hardcover)
Overcoming Learning Disabilities from the Ground Up (A Merloyd Lawrence Book)
Da Capo Lifelong Books, 9780738212333, 296pp.
Publication Date: August 3, 2010
* Individual store prices may vary.
Description
The Learning Tree offers a new understanding of learning problems. Rather than looking just at symptoms, this new approach describes how to find the missing developmental steps that cause these symptoms. The best solution to the problem comes from knowing what essential skills to strengthen.Using the metaphor of a tree, Dr. Stanley Greenspan explains that the roots represent how children take in the world through what they hear, see, smell, and touch. The trunk represents thinking skills through which children grow both academically and socially. From these, the branches-children's basic abilities to read, write, do math, and organize their work-develop.Both parents and early learning professionals will especially welcome the sections on finding and solving learning problems early. With Dr. Greenspan's characteristic wise optimism, this book "raises the ceiling" for all children who learn differently or with difficulty.
About the Author
STANLEY I. GREENSPAN, MD, the world s foremost authority on clinical work with young children and Clinical Professor of Psychiatry and Pediatrics at George Washington University Medical School, died shortly after finishing his work on this book.

NANCY THORNDIKE GREENSPAN is the author of "The End of the Certain World." This is the fourth book on which she has collaborated with her husband.RICHARD LODISH is Associate Headmaster at the Sidwell Friends School in Washington, D.C."
Praise For The Learning Tree: Overcoming Learning Disabilities from the Ground Up (A Merloyd Lawrence Book)…
Publishers Weekly, 8/2/10
"Pre-eminent psychiatrist and early childhood expert Stanley Greenspan collaborated with his wife, Nancy Thorndike Greenspan, in their fourth book together, the culmination of many years of research…With their developmental approach, the Greenspans focus on practical ways to enhance 'thinking-based' rather than 'memory-based' learning. Several chapters contributed by Richard Lodish, an educator at the Sidwell Friends School in Washington, D.C., demonstrate how Greenspan's methods are used in the classroom and will be of particular interest to teachers."
AssociatedContent.com, 8/26/10
"This book I would highly recommend to ALL caregivers…If you want to help a youngster who has a frustrating learning deficit,
The Learning Tree
can help diagnose the problem and then give you guidelines to get that youngster back on track." 
Bookviews blog, September 2010
"For parents that have children exhibiting learning problems, I recommend
The Learning Tree
…This book will provide peace of mind along with a game plan to address problems." 
Blogcritics.org, 9/2/10
"Since we as parents are the first educators of our children, this book can be an invaluable resource for us…The book provides excellent tools and information for teachers, too…The writers provide an eloquent explanation of learning and understanding…This is a book of immense value to all educators."
I
nfodad.com, 9/9/10

"The Greenspans' approach to improving the learning skills of learning-disabled children is laid out in the form of a tree: trunk, roots and branches. Not surprisingly, it is a very well-conceived conceptual framework…Give[s] specific examples of ways to build basic and advanced thinking, then show[s] how the thinking levels work in a school setting…Despite its overt focus on children with learning disabilities, its structural elements really apply to all children as they grow, learn and develop."
Treasure Valley Family Magazine, October 2010
"Appropriate for caregivers of children of all grade levels…[Greenspan] offers hope, and supplies concrete solutions so that every child can flourish in school and in life." 
About.com
"[The] text is upbeat, easy to read, and full of confidence in children and parents."