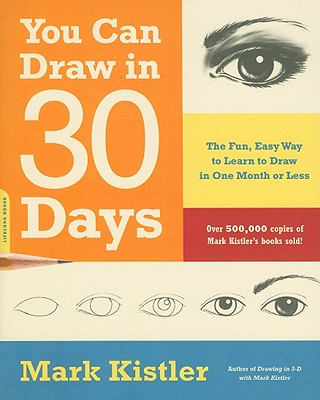 You Can Draw in 30 Days
The Fun, Easy Way to Learn to Draw in One Month or Less
Paperback

* Individual store prices may vary.
Description
Pick up your pencil, embrace your inner artist, and learn how to draw in thirty days with this approachable step-by-step guide from an Emmy award-winning PBS host.
Drawing is an acquired skill, not a talent -- anyone can learn to draw! All you need is a pencil, a piece of paper, and the willingness to tap into your hidden artistic abilities. With Emmy award-winning, longtime PBS host Mark Kistler as your guide, you'll learn the secrets of sophisticated three-dimensional renderings, and have fun along the way -- in just twenty minutes a day for a month. Inside you'll find:
Quick and easy step-by-step instructions for drawing everything from simple spheres to apples, trees, buildings, and the human hand and face
More than 500 line drawings, illustrating each step
Time-tested tips, techniques, and tutorials for drawing in 3-D
The 9 Fundamental Laws of Drawing to create the illusion of depth in any drawing
75 student examples to encourage you in the process
Praise For You Can Draw in 30 Days: The Fun, Easy Way to Learn to Draw in One Month or Less…
"Sharpen your pencils and open your sketchbook; your teacher is waiting."—Boston Globe

"A must for anyone who wants to pursue art but doesn't know where to start."—Midwest Book Review

"Kistler provides detailed instructions and tips that take the mystery out of making simple drawings that look good. He also uses a sense of humor and encouraging words to help."—Deseret News

"Kistler's approach is light and fun, and rather than overwhelming with technical terminology and intimidating concepts, he instead starts you out putting pencil to paper. Within the first few pages of the book, you are already well on your way...The approach presented in this book works so well because you get instant results, which inspire you to continue with the process."—Sacramento Book Review
Da Capo Lifelong Books, 9780738212418, 256pp.
Publication Date: January 4, 2011
About the Author
Mark Kistler is the author of nineteen books, including You Can Draw in 30 Days. He has worked as a classroom educator, a large audience presenter, an Emmy Award-winning television personality, a bestselling author/illustrator, a popular "virtual" instructor, and a respected drawing teacher for both adults and children. Each year, Mark Kistler travels to scores of schools around the country presenting his "Drawing in 3-D" assemblies and his evening Family Workshops to tens of thousands of adults and children.