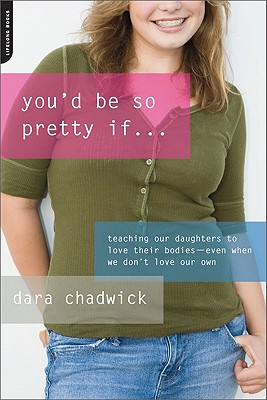 You'd Be So Pretty If . . . (Paperback)
Teaching Our Daughters to Love Their Bodies--Even When We Don't Love Our Own
Da Capo Lifelong Books, 9780738212586, 256pp.
Publication Date: April 14, 2009
* Individual store prices may vary.
Description
From
You'd Be So Pretty If...
I grew up listening to my mom bemoan everything from the size of her thighs to the shape of her eyes. So you can imagine my dismay the first time someone exclaimed, "You look just like your mother!"
Every mom wants her daughter to feel confident in her own skin, but may often unconsciously impose her own "body image blueprint." Dara Chadwick's You'd Be So Pretty If... reveals:
• What girls learn when Mom diets
• How to talk to your daughter about healthy eating and exercise habits
• The trigger words that set off a body image crisis
• How to recognize a budding eating disorder
With humor and compassion, You'd Be So Pretty If... offers parents fresh and useful strategies for conveying that success isn't negated by carrying extra pounds—or guaranteed by keeping them off.
About the Author
Dara Chadwick is a former magazine staff editor. She wrote the 2007 Weight Loss Diary column for Shape. Chadwick lives in Jamestown, Rhode Island, with her family.
Praise For You'd Be So Pretty If . . .: Teaching Our Daughters to Love Their Bodies--Even When We Don't Love Our Own…
IVillage's NeverSayDiet.com, 1/22/09
"[Chadwick's] insightful mother-daughter body image angle is fantastic and refreshing."
Washington Post, 3/3/09
"So how do we break the cycle? Chadwick offers excellent suggestions."
Seattle Eastside Parenting Examiner.com
"I feel like this is a must-read for all parents—not just moms, but dads as well."