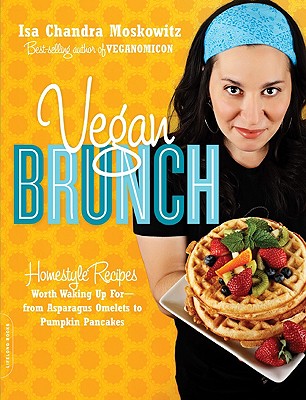 Vegan Brunch: Homestyle Recipes Worth Waking Up For-From Asparagus Omelets to Pumpkin Pancakes (Paperback)
Homestyle Recipes Worth Waking Up For-From Asparagus Omelets to Pumpkin Pancakes
Da Capo Lifelong Books, 9780738212722, 240pp.
Publication Date: May 1, 2009
Description
Omelets. French toast. Bacon. Brunch has always been about comfort, calories--and for vegans everywhere, a feast of foods they can't touch. Until now Bestselling vegan chef Isa Chandra Moskowitz unleashes her signature flair and ingenuity to give readers breakfast they won't find anywhere else, whether welcoming you from a late night on the town or waking you up for a meal you won't want to forget.
Recipes range from the classic (Pancakes and Waffles) to the inspired (Banana Rabanada) to the decadent (Pain au Chocolat) to the essential (Bloody Marys).
The book also includes gluten-free and soy-free recipes. With over 75 recipes suitable for one or to wow a crowd, and gorgeous color photos throughout, Vegan Brunch is the ultimate cookbook for the most important meal of the day.
About the Author
Isa Chandra Moskowitz is America's most popular vegan chef. The author of several bestselling cookbooks, her work has been featured in countless print and on-line publications. A longtime Brooklyn resident, she now lives in Portland, Oregon.www.theppk.com
Praise For Vegan Brunch: Homestyle Recipes Worth Waking Up For-From Asparagus Omelets to Pumpkin Pancakes…
The New York Times, 5/28/09
"The vegan chef reframes breakfast for those for whom bacon, eggs, and cream cheese are verboten."

Bust, June/July 2009
"My favorite vegan recipes are the ones that are effortlessly able to slip into social gatherings of omnivores, earning oohs and ahhs for their sheer yumminess…Nobody is better at writing recipes like these than Isa Chandra Moskowitz"
Huffington Post.com, 5/27/09
"Brings that excitement I've been craving along with a big helping of creativity…There is something for every cooking ability and every taste."
SuperVegan.com
"Isa Chandra Moskowitz has done it again: amused, enlightened, and fed us with the sassy and scrumptious recipes in her second solo cookbook, Vegan Brunch."
Bergen County Record, 6/1/09
"Moskowitz isn't whipping up your grandmother's Sunday brunch in her newest cookbook. Even carnivores will appreciate the complex flavors of these vegan sausages."
VegNews, July/August 2009
"Moskowitz injects all her recipes with her usual sass and humor, and one leaf through Vegan Brunch will leave you with reasons—and recipes—galore to host a weekend food-party."
Hippo Press, 6/9/09
"[T]here are plenty of recipes that work no matter who you're cooking for."
Library Journal, 6/15/09
"Sure to be in demand by Moskowitz's ardent fans and devotees of vegan cuisine."
TheDailyGreen.com
"Moskowitz transforms a meal that usually revolves around bacon and eggs into a vegan-friendly feast."
Norwichbulletin.com & Hollandsentinel.com
"Moskowitz unleashes her signature flair and ingenuity to give readers breakfast they won't find anywhere ele."
Daily Southtown, 7/2/09
"Bestselling vegan chef Isa Chandra Moskowitz unleashes her signature flair and ingenuity to give readers breakfast they won't find anywhere else."
Epicurious.com, 7/16/09
"This book is full of sweet and savory recipes such as Curried Cauliflower Frittata and Lemon Cashew-Stuffed Crepes with Whole Berry Sauce, ensuring that brunch, or any other meal, will be really satisfying."
Seattle Times, 7/14/09
"Vegan Brunch would be at home in any kitchen. Lusciously photographed home-style dishes like Cherry Sage Sausages and Brazilian French Toast require minimal prep time and few ingredients."
Veg Family, August 2009
"Move over Veganomicon! You've been replaced by little sister. Vegan Brunch does for breakfast what Veganomicon did for, well, everything else."
VegCooking.com, 7/29/09
"Vegan Brunch is full of revamped classics that are now served with a major twist. From Chocolate Beer Waffles to Samosa Smashed Potatoes, the book is full of recipes that will make the perfect meal to wake up to or even end the night with!"

Suite101.com, 10/14
"Moskowitz offers tons of variations and tips on how to get your brunch on without too much fuss."

VegSource.com, 11/9/09
"I tried to find a bad recipe in this book, I really did. I couldn't even find a mediocre one. The only problem with Vegan Brunch is that there are too many fabulous recipes and not enough time to make or eat them all! But be forewarned: You will likely find yourself eating brunch all day long, too."

Jewish Journal, 11/17/09
"If you want great recipes that look fancy, but are simple and go with everything (both meat and dairy meals), then pick up a copy of Vegan Brunch. You'll find yourself brunching any time of day. The directions and ingredient lists are simple, with great photos to go along with the recipes."

Vegetarian Journal, Vol. 29, Issue 2, 2009 "Moskowitz has done it again! Her latest book, Vegan Brunch, serves up creative dishes that you and your family won't want to miss…Call up your neighbors and friends, and invite them over for a brunch today!"
Portland Oregonian, 9/21"One of the best cookbooks to tackle breakfast…While her book is meant to inspire glorious, elaborate weekend meals that ditch the dairy and eggs, it's loaded with plenty of simple recipes that work any day of the week."
Advertisement