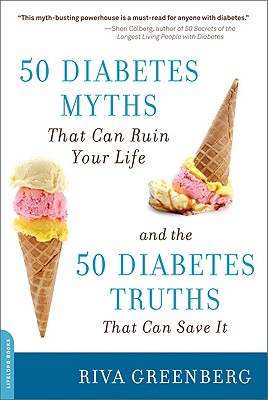 50 Diabetes Myths That Can Ruin Your Life (Paperback)
And the 50 Diabetes Truths That Can Save It
Da Capo Lifelong Books, 9780738213200, 336pp.
Publication Date: July 14, 2009
* Individual store prices may vary.
Description
This one-stop information spot for diabetes management dispels the most common diabetes myths and shares critical info on prevention, nutrition, medication, insulin and more

Patient-expert Riva Greenberg's book is an essential guide for the more than 24 million Americans with diabetes and the more than 57 million with prediabetes. 50 Diabetes Myths That Can Ruin Your Life puts the "power of truth" directly into patients' hands, dispelling the 50 most common myths that tend to rule their lives, such as: "You have to be fat to get diabetes," "Eating too many sweets causes diabetes," "Insulin shots are painful," and "Type 2 diabetes is not as serious as Type 1." With recommendations from top experts and engaging patient stories, 50 Diabetes Myths That Can Ruin Your Life explains the crucial information everyone managing this chronic illness needs to know to live a long, healthy life with diabetes.
About the Author
Riva Greenberg is a recognized diabetes patient-expert, inspirational speaker, author, and health coach, who has lived successfully with type 1 diabetes for more than forty years.

Riva is an advisory member of the Diabetes Hands Foundation and a member of the American Association of Diabetes Educators and Diabetes Advocates. She lives in New York (City).

For more information visit her website Diabetes Stories.com; Twitter: @diabetesmyths
Praise For 50 Diabetes Myths That Can Ruin Your Life: And the 50 Diabetes Truths That Can Save It…
Library Journal online Xpress review, 7/24/09
"[Riva Greenberg] is singularly well placed to help those with diabetes separate the wheat from the chaff in terms of the validity of the plethora of available information. This is an extremely readable one-stop information spot for diabetes management, written by a patient-expert with the support of a huge team of contributing experts."

DiabetesDaily.com, 8/18/09
"I read about diabetes day and night, yet I still found this book illuminating. There are many persistent and widely believed myths about diabetes. It's important to dispel them, especially at the beginning, to save those with diabetes from devastating mistakes. 50 Diabetes Myths That Can Ruin Your Life accomplishes this goal in an easy-to-browse fashion."

ASweetLife.org, 12/17/2009
"In clear, straightforward and reassuring language, the truth about what diabetes is and what power [we] have to control it…Greenberg is excellent at explaining both why it's important to pay attention to and actively manage your diabetes, and why, if you do so, diabetes will not ruin your life…Greenberg's book is also a great resource to educate well-meaning family and friends." 


or
Not Currently Available for Direct Purchase