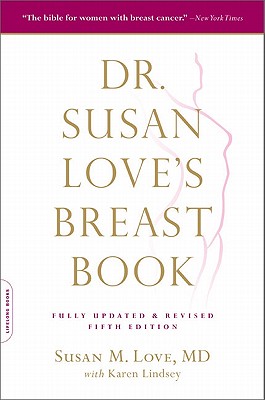 Dr. Susan Love's Breast Book
Paperback

* Individual store prices may vary.
Description
"Dr. Susan Love's Breast Book" has long been the bible for the newly diagnosed. In this completely revised fifth edition, it also becomes a guide for those at risk of getting breast cancer, survivors interested in the consequences of their treatment, and anyone who wants to understand the new research about how the local environment influences the manifestations and treatments of many different kinds of breast cancer. Major advances being made in genetic research today mean that prevention and treatment can work not only to get rid of mutated cells (through chemo or surgery), but also to change the environment around the cells (through hormone therapy, exercise, and stress reduction). Among other promising developments discussed are advances in imaging, recognition of breast density as a risk factor, and a section focused on "personalized medicine" to help determine what kind of cancer you have and how best to treat it.
Any woman facing a diagnosis, decisions about treatment, or concerns about prevention will find in Dr. Love's book the information, guidance, and reassurance she needs.

Praise For Dr. Susan Love's Breast Book…
Library Journal, 8/2/10
"The woman who almost singlehandedly brought public attention to the mammillary part of our bodies keeps the updates coming. With studies and research advancing at warp speed, this latest tome addresses genetics, how the cell environment influences treatment, new imaging protocols, breast density considerations, and 'personalized medicine,' approaching each woman's cancer individually. The review of the fourth edition said that no library should be without it. Ditto that."
About.com
"Twenty years after the first edition, Dr. Love writes with optimism about advances in the science of breast cancer diagnosis…She won't lead you astray. For newly-diagnosed breast cancer patients, this book is still a great guide." 
Heart & Soul, November 2010
"More than a bible for those newly diagnosed with breast cancer. It's now also a guide for survivors, those at risk and anyone who wants to understand the environmental connection."

Bookviews.com, October 2010
"This is the bible on the topic… The sheer size of the book attests to the body of new knowledge that exists regarding prevention, diagnostic tools, and treatment options." 
Los Angeles Times Magazine, October 2010
"the seminal work for any woman facing the disease." 
Washington Post, 10/12/10
"I was impressed by how plainly and intelligently Love…presented the research findings about mammography."

Dayton Daily News, 10/9/10
"[Love is a] breast cancer guru."

Northern Virginia Magazine, October 2010
"comprehensive and candid."

Infodad.com, 10/14/10
"For women who have breast cancer—or simply want to know more about it to help a friend or a relative manage it—there has been no better source for the past 20 years than
Dr. Susan Love's Breast Book
…[Love] gives information and advice in forthright, plainspoken language…There is simply no more clear-headed and comprehensive guide to this often devastating disease than
Dr. Susan Love's Breast Book
, and the new edition is the most information-packed one yet." 
January, October 2010
"An owner's manual for breasts." 
Energy Times, November/December 2010
"The go-to guide for millions of women concerned about breast disorders—cancer in particular…A definitive resource…Present[s] technical information in clear prose meant to be understood by the average woman…Deserve[s] a place on every breast cancer patient's bookshelf." 
Tucson Citizen, 11/8/10

"Striking a blow to the old approach that more is better, Dr. Love writes that it's not just a matter of having cells with mutations of cancer but also an environment egging them on." 
Midwest Book Review, November 2010
"Many shifts in breast health science make this massive coverage a key acquisition for any health library." 
Los Angeles Times, 11/22/10
"[Dr. Love is] one of the country's leading experts on breast cancer." 
Marion Star & Mullins Enterprise, 11/10/10

"Any woman facing a diagnosis, decisions about treatment or concerns about prevention will find in Dr. Love's book the information, guidance and the reassurance she needs."  
Choice, April 2011

"A candid, authoritative, and splendidly well-written guide for women facing a diagnosis, decisions about treatment, and concerns about prevention of breast cancer…Highly recommended."
More.com, 1/18/11
"Written by one of the nation's most trusted experts, [it] can help lessen the fear and confusion of a breast cancer diagnosis."
Better Home and Gardens, October 2011
"They don't call it 'the bible of breast care' for nothing."
St. Petersburg Times, 11/27/11

"An essential companion, with remarkably accessible information."
Da Capo Lifelong Books, 9780738213590, 736pp.
Publication Date: September 14, 2010
About the Author
Susan M. Love, MD, MBA, is Clinical Professor of Surgery at UCLA and President and Medical Director of the Dr. Susan Love Research Foundation. A founder of the National Breast Cancer Coalition, she was appointed to the National Cancer Advisory Board by President Clinton. Karen Lindsey has coauthored all editions of "Dr. Susan Love's Breast Book."
or
Not Currently Available for Direct Purchase