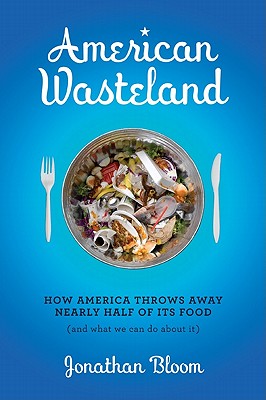 American Wasteland (Hardcover)
How America Throws Away Nearly Half of Its Food (and What We Can Do About It)
Da Capo Lifelong Books, 9780738213644, 384pp.
Publication Date: September 1, 2010
Other Editions of This Title:
Paperback (8/30/2011)
* Individual store prices may vary.
Description
What Tom Vanderbilt did for traffic and Brian Wansink did for mindless eating, Jonathan Bloom does for food waste. The topic couldn't be timelier: As more people are going hungry while simultaneously more people are morbidly obese,
American Wasteland
sheds light on the history, culture, and mindset of waste while exploring the parallel eco-friendly and sustainable-food movements. As the era of unprecedented prosperity comes to an end, it's time to reexamine our culture of excess.
Working at both a local grocery store and a major fast food chain and volunteering with a food recovery group, Bloom also interviews expertsfrom Brian Wansink to Alice Waters to Nobel Prizewinning economist Amartya Senand digs up not only why and how we waste, but, more importantly, what we can do to change our ways.
About the Author
Jonathan Bloom is a freelance journalist and food waste expert who writes the blog Wasted Food. An accomplished eater and fledgling composter, he has covered both serious and quirky topics related to food and the environment. His work has appeared in the New York Times, Washington Post, Boston Globe, Newsweek, and Variety, among others. A Boston native, he lives in Durham, North Carolina, with his family, and many, many containers for leftovers.
Praise For American Wasteland: How America Throws Away Nearly Half of Its Food (and What We Can Do About It)…
Kirkus Reviews (starred review), 8/15/10
"An eye-opening account of what used to be considered a sin—the willful waste of perfectly edible food…Bloom is full of condemnation without being unduly scolding…Refreshingly, Bloom offers solutions as well as jeremiads, and not a minute too soon—an urgent, necessary book."
Booklist, 10/1/10
"Journalist Bloom documents specifics about the nature of wasted food in the twenty-first century and calls into question both the economic efficiency and the morality of such profligacy." 
Publishers Weekly, 9/27
"Journalist Bloom follows the trajectory of America's food from gathering to garbage bin in this compelling and finely reported study, examining why roughly half of our harvest ends up in landfills or rots in the field…Bloom's most interesting point is psychological: we have trained ourselves to regard food as a symbol of American plenty that should be available at all seasons and times, and in dizzying quantities…[He] makes smart suggestions on becoming individually and collectively more food conscious."
Huffington Post, 11/9/10
"Timely, terrific new book."
Tucson Citizen, 11/23/10
"This book could change your life."
TheAtlantic.com
"Rather than being yet another industrial food system downer of a book, this is a good read that somehow inspires rather than defeats…Bloom's first-person reportage draws you in and will have you promising to always bring Tupperware from home when you go out to eat."

TheDailyGreen.com,
"Bloom gives us the trash stats, but he also helps come up with everyday solutions you can put into action today." 
VegNews, February 2011
"An eye-opening read."
Choice, April 2011
"Bloom's book is worth consideration, not only because of his focus on the American food waste problem, but also because of his evident desire to do something about it. Recommended."
or
Not Currently Available for Direct Purchase