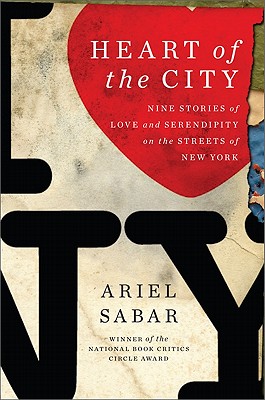 Heart of the City (Hardcover)
Nine Stories of Love and Serendipity on the Streets of New York
Da Capo Press, 9780738213798, 272pp.
Publication Date: January 1, 2011
Other Editions of This Title:
Digital Audiobook (1/10/2011)
Paperback (4/10/2012)
Compact Disc (1/11/2011)
MP3 CD (1/11/2011)
Compact Disc (1/11/2011)
* Individual store prices may vary.
Description
The couples in this book hail from across America and the world. Most don t live in New York City. Some never did. What mattered to me was that they met there, in one of its iconic public places. Each of the nine stories begins just before that chance meeting when they are strangers, oblivious to how, in moments, their lives will irrevocably change.
from the Introduction
The handsome Texas sailor who offers dinner to a runaway in Central Park. The Midwestern college girl who stops a cop in Times Square for restaurant advice. The Brooklyn man on a midnight subway who helps a weary tourist find her way to Chinatown. The Columbia University graduate student who encounters an unexpected object of beauty at the Metropolitan Museum of Art.
A public place in the world's greatest city. A chance meeting of strangers. A marriage. Heart of the City tells the remarkable true stories of nine ordinary couples from the 1940s to the present whose matchmaker was the City of New York.
Intrigued by the romance of his own parents, who met in Washington Square Park, award-winning author Ariel Sabar set off on a far-ranging search for other couples who married after first meeting in one of New York City's iconic public spaces. Sabar conjures their big-city love stories in novel-like detail, drawing us into the hearts of strangers just as their lives are about to change forever.
In setting the stage for these surprising, funny, and moving tales, Sabar, winner of the National Book Critics Circle Award, takes us on a fascinating tour of the psychological research into the importance of place in how and whether people meet and fall in love.
Heart of the City is a paean to the physical city as matchmaker, a tribute to the power of chance, and an eloquent reminder of why we must care about the design of urban spaces.
About the Author
Ariel Sabar's first book, My Father's Paradise, won the National Book Critics Circle Award for Autobiography. He is an award-winning former staff writer for the Baltimore Sun, Christian Science Monitor, and Providence Journal. His work has also appeared in the New York Times and Boston Globe, among many other publications. He teaches creative writing at The George Washington University and lives with his family in Washington, D.C.
Praise For Heart of the City: Nine Stories of Love and Serendipity on the Streets of New York…
Kirkus Reviews
"Love stories and urban studies merge in these… cozy, seductive narratives."
Elle, February 2011
"If you've ever felt romantic upon seeing the Chrysler Building at dusk or excited instead of skeeved out by the rush of humanity in Times Square, you're not alone; environmental psychologists do too. As does journalist Ariel Sabar in
Heart of the City.
 He not only reports on the science of attraction in man-made environments…but also, more compellingly, offers true stories as evidence that the answers are yes and yes…All these tales have a similarly happy ending…but if this book's clever packaging makes its joy seem somewhat mechanical, well, joy is worth having no matter how or where it's found."

Town & Country, February 2011

"Ask anyone from Woody Allen to Carrie Bradsaw: there's no love story quite like a New York love story. In
Heart of the City
Ariel Sabar tells nine true—and very moving—stories of people who met in the Big Apple." 
BookPage, February 2011
"Sabar's thoroughly engaging
Heart of the City
profiles nine couples who met at famous New York City public spaces…Sabar has teased out each of these couples' magnificent, ordinary stories and compiled them into a sparkling love letter to the city." 
Publishers Weekly, 1/17/11
"Inspired by his parents' story of meeting in Washington Square Park, National Book Critics Circle Award-winner Sabar looks at the 'environmental psychology' of New York City's iconic public spaces…The strength of this effort lies in its sweetness." 
Lisa Loeb

"With each story I felt like I was watching a mini movie. I couldn't put the book down, which led to many late nights...This collection affirmed my belief that people can find true love in life if they keep their eyes open." 
Quirky Geeky Scribbles, 1/17/11

"If you like true stories and especially if you love New York: this is a must read." 
New York Journal of Books,2/14/11
"[A] delightful collection of essays (stories, really) that recount initial contacts in notable landmarks of America's most famous city, all of which resulted in marriage… richer we are, simply because 18 people happened to be in the right place at exactly the right time—and a writer had enough curiosity, and foresight, to capture their stories." 
St. Petersburg Times, 2/6/11

"Charming true stories."  
New York Times, 2/13/11
"The apparent connection between personal passion and public place inspires a beguiling romp into environmental psychology, which then leads to nine couples whose first encounter (and illuminating, sometimes bittersweet postscripts) represent an affirmation of the everyday miracle that is New York." 
New York
Times
,
2/17/11
"Mr. Sabar is shamelessly romantic…The results have the power to make saps out of us all." 
Toronto Star, 2/13/11
"An engaging, moving and lively read…Each of these nine stories define serendipity and provoke wonder. How can they not?" 
Christian Science Monitor, 2/14/11
"The stories…are sweet and charming…
Heart of the City
is about what can happen when people let down their guard in a sharp-elbowed, often daunting, city, where routine contact with strangers is a fixture of public life. A random encounter can change everything." 
Providence Journal, 2/14/11
"The stories touch the heart. They are poignant, compelling, absorbing, romantic, and just flat-out sweet. Reading them, even hardened cynics will feel the urge to hug someone." 
New York Journal of Books, 2/14/11

"[A] delightful collection…Richer we are, simply because 18 people happened to be in the right place at exactly the right time—and a writer had enough curiosity, and foresight, to capture their stories." 
The Daily Mail, UK, 3/17/11
"A wonderful, life-affirming collection of romances, all the better because they're real…What really strikes home is the sheer humour, patience and good manners of most of the men, even the modern ones. New York, New York, it sure is a wonderful."
Brides Magazine, 3/21/11
"Each story is undeniably sweet—even the most hardcore cynic couldn't deny that this book is utterly heartwarming. Definitely an excellent choice if you're looking for some light pre-wedding (or honeymoon) reading!"
Baltimore Jewish Times, 4/15/11 "[A] heartwarming and delightful set of true love stories" and said "Ariel Sabar enchants his readers…I highly recommend this book to those who are searching for something that is both cheerful and enlightening."
Coverage from NPR
or
Not Currently Available for Direct Purchase