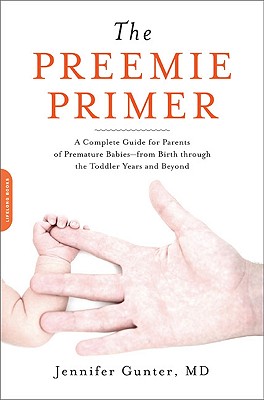 The Preemie Primer
A Complete Guide for Parents of Premature Babies -- from Birth through the Toddler Years and Beyond
Paperback

* Individual store prices may vary.
Description
Having a premature baby -- a baby born before the thirty-seventh week of pregnancy -- can be a crash course in both medicine and health economics, not just in parenting. Parents face complex information, difficult decisions, and overwhelming grief and worry -- with challenges that often extend well beyond those early days and weeks. As an ob/gyn, Dr. Jennifer Gunter has delivered hundreds of premature babies, but as a mother of preemie triplets, she also understands the heartbreak and challenges of prematurity. The Preemie Primer is a comprehensive resource, covering topics from delivery, hospitalization, and preemie development to parenting multiples, handling health issues, and finding special-needs programs. Compassionate, engaging, and medically grounded, The Preemie Primer is the first book on prematurity to combine the insight of a doctor with the experience of a mom.
Praise For The Preemie Primer: A Complete Guide for Parents of Premature Babies -- from Birth through the Toddler Years and Beyond…
"In addition to containing the latest information about prematurity, The Preemie Primer is unique because the author is unique. The book is written from Dr. Gunter's perspective as both an obstetrician and the parent of preemies…This combination of medical knowledge and a parent's intuition make The Preemie Primer a special book…What The Preemie Primer does best is to explain the complicated world of NICU care for premature babies in words that parents can understand…Unlike a lot of books on prematurity, The Preemie Primer doesn't end at NICU discharge. Dr. Gunter does a wonderful job of helping parents cope with the difficult transition from NICU to home, and to understand the challenges that children born early may face as they grow from babies to toddlers, then enter the school system." MamasOnBedrest&Beyond.com, 9/2/10"A deeply personal account…The success of The Preemie Primer results from the fact that as I read it, I felt as if I was sitting across from Jennifer Gunter, drinking coffee and chatting as she tells her story." Library Journal, 9/16/10(starred review)

Stephen Berman, MD, FAAP, Professor of Pediatrics, University Colorado School of Medicine, Past President American Academy of Pediatrics
"As a pediatrician who cares for children with complex medical conditions, many of whom were born very prematurely, I recommend The Preemie Primer as a must-read for families of preemies. Caring for these fragile infants and children requires a partnership with parents and joint clinical decision making, a partnership that will be strengthened when parents read this book. The personal feelings that Dr Gunter shares will also help parents to trust their own common sense and deal with the stress and anxiety of raising a preemie." Infodad.com, 7/29/10"What sets [The Preemie Primer] above many other books in the 'medical aspects of parenting' genre is the effective interweaving of Gunter's personal and emotional experiences with her no-nonsense medical knowledge about premature babies and the families that raise them." Bookviews, August 2010"For parents of premature babies it is 'must' reading." About.com, 8/11/10
Da Capo Lifelong Books, 9780738213934, 352pp.
Publication Date: June 29, 2010
About the Author
Jennifer Gunter, MD, is an internationally renowned ob/gyn and leading expert in the field of women's pain medicine. She lives in Mill Valley, California.