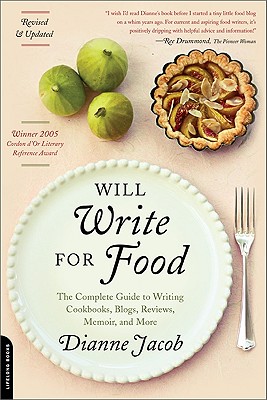 Will Write for Food (Paperback)
The Complete Guide to Writing Cookbooks, Blogs, Reviews, Memoir, and More
Da Capo Lifelong Books, 9780738214047, 342pp.
Publication Date: July 27, 2010
Other Editions of This Title:
Paperback (7/14/2015)
Paperback (4/21/2005)
* Individual store prices may vary.
Description
The success of Julie & Julia highlights the newest trend in food writing: blogging. Noted journalist and food-writing instructor Dianne Jacob has revised her award-winning book to include a chapter covering all the how-to's of food blogging as well as updated resources and new information on working in other wildly popular genres, namely cookbooks and food memoirs. Incredibly timely, this new edition of Will Write for Food is the must-have for every foodie who wants to put pen to pageor hands to keyboard.
About the Author
Dianne Jacob, a journalist and food-writing instructor, has been writing about food for twenty years. She is the coauthor of Grilled Pizzas & Piadinas and lives in Oakland, California.
Praise For Will Write for Food: The Complete Guide to Writing Cookbooks, Blogs, Reviews, Memoir, and More…
Epicurious.com, 8/3/10
"Should be mandatory reading for everyone who aspires to be a food writer. No matter the format, medium, or style, Jacob has it covered. . . . You'll find important and helpful advice for anyone interested in blogging, creating recipes, writing a food memoir, or shooting food porn. There are also "Writing Exercises" to help you hone your skills. . . . Probably the best part of the book is that she turns to seasoned and respected professionals for advice, names you'd recognize in a heartbeat: Michael Bauer, David Lebovitz, Judith Jones, Adam Roberts, Deborah Madison, and Dorie Greenspan—just to name a few. Yes, it can seem like the world of food writing is an overcrowded one and Jacob's upfront and honest account can be a little unnerving for the faint of heart: It's not as glamorous as it seems, timing and luck do play a part, and the money doesn't always follow. But if knowledge is key, Will Write for Food can help open the coveted door."

Bookviews, September 2010
"It is filled with good advice about the various genres of food writing. I have been a professional writer for decades so I can confirm that this is the real deal…It is an essential tool for every foodie hoping to put pen to page."
Library Journal, October 2010
"A delicious guide to the world of food writing…An engaging, informative handbook for hobbyists and aspiring professionals. Worth purchasing even if you have the first edition."

Bibliobuffet.com, 9/27/10
"An excellent manual. It puts food writing into perspective and I rather suspect it will help raise the standards of the genre." 
FamilyFriendlyFood.com, 10/17/10
"This is an amazing book—a must read to all aspiring food writers and bloggers…[A] very comprehensive guidebook to the world of food writing." 
San Francisco Book Review, 11/9/10

"Part instructional, part inspirational manual,
Will Write for Food
gives writers—both novice and skilled—thorough information about how to get started on food blogging, restaurant reviewing, cookbook and recipe writing, nonfiction and fiction writing, as well as how to get published…A must-have writing reference made for anyone interested in food and words." 
KitchenShamen.com, 12/3/10
"Simple and straight forward, Dianne Jacob's no nonsense approach makes it seem like any one of us can be food writers." 
Portland Oregonian, 1/4/11

"[Jacob's] pithy, candid observations and advice serves anyone who melds words and food."
or
Not Currently Available for Direct Purchase