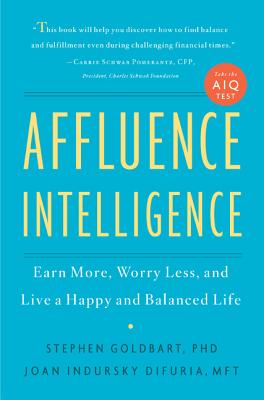 Affluence Intelligence (Hardcover)
Earn More, Worry Less, and Live a Happy and Balanced Life
Da Capo Lifelong Books, 9780738214245, 256pp.
Publication Date: November 2, 2016
* Individual store prices may vary.
or
Not Currently Available for Direct Purchase
Description
Affluence Intelligence can show you how to harness your innate power to live a richer life. It's easy to assume that if we only had more money we'd be happier. But there's more to the story--after all, why then are some high net worth people miserable? After decades of working with clients of all backgrounds...financial psychologists Stephen Goldbart and Joan DiFuria have identified the hidden factors behind why some people are able to attract and enjoy "the good life" while others, despite advantages, can't seem to get ahead. They reveal the concept of affluence intelligence, a mindset that makes people not only wealthier, but also deeply fulfilled.
This is a must read
About the Author
Fifteen years ago, Stephen Goldbart, PhD, and Joan DiFuria, MFCC, co-founded the Money Meaning and Choices Institute (MMCI)--a company dedicated to helping clients maximize the opportunities and minimize the risks of wealth. They each live with their families in northern California.
Praise For Affluence Intelligence: Earn More, Worry Less, and Live a Happy and Balanced Life…
Curled Up with a Good Book
"Affluence Intelligence lays out a three-month plan that leads to achievement of lofty goals, recognizing and living priorities, and enjoying a greater sense of possibility…Goldbart and Difuria have turned what sometimes seems an insurmountable obstacle into an enjoyable adventure. Affluence Intelligence helps readers get a grip on the worry and anxiety and transform fear into power. The program outlined here is concrete and perhaps revolutionary, with the potential to redirect an ages-old but dead-end paradigm into a satisfying and productive road trip to a worthy and fulfilling destination."
Publishers Weekly, 11/7/11
"Readers will find this to be a refreshing take on personal finance, psychology, and self-help."
San Francisco Book Review/Sacramento Book Review, 11/3/11

"Because the writing and the examples are approachable, especially during the current economic climate,
Affluence Intelligence
 is a thorough tool that can help bring balance, focus, and perhaps happiness, instead of financial worries."
Midwest Book Review, January 2012

"Recommended for any inspirational collection."
Success, March 2012 "By addressing the psychology and practice of money management, Affluence Intelligence will help you assess your level of prosperity and create a plan for acquiring the kind of financial and emotional wealth you desire."
Advertisement