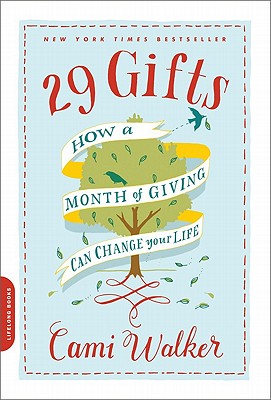 29 Gifts (Paperback)
How a Month of Giving Can Change Your Life
Da Capo Lifelong Books, 9780738214306, 256pp.
Publication Date: October 5, 2010
Description
At age thirty-five, Cami Walker was burdened by an intensified struggle with multiple sclerosis, a chronic neurological disease that left her debilitated and depressed. Then she received an uncommon "prescription" from South African healer Mbali Creazzo:
Give away 29 gifts in 29 days
.
29 Gifts is the insightful story of the author's life change as she embraces and reflects on the naturally reciprocal process of giving. Many of Walker's gifts were simple--a phone call, spare change, a Kleenex. Yet the acts were transformative. By Day 29, not only had Walker's health and happiness improved, but she had created a worldwide giving movement. 29 Gifts shows how a simple, daily practice of altruism can dramatically alter your outlook on the world.
About the Author
Cami Walker was diagnosed with multiple sclerosis in 2006 and created the online 29-Day Giving Challenge in April 2008. She has continued her own giving cycle every month since.
Advertisement