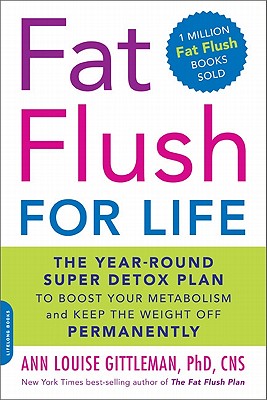 Fat Flush for Life
The Year-Round Super Detox Plan to Boost Your Metabolism and Keep the Weight Off Permanently
Paperback

* Individual store prices may vary.
Description
With millions of followers nationwide, award-winning nutrition expert and bestselling author Ann Louise Gittleman has revolutionized dieting, helping people melt away fat by detoxifying the body. Fat flushing nourishes glowing skin, reduces the appearance of cellulite, increases energy levels, and improves overall wellness.
Dr. Gittleman reveals the new secrets of Fat Flush for Life--a seasonal approach to help you burn stubborn body fat all year long. She not only details how to detoxify the liver and lymphatic system to get rid of bloat, belly fat, and cellulite, but also explains how to take advantage of your body's natural response to the seasons to keep you thin and healthy for life.
Fat Flush for Life features significant detox advances and fitness workouts alongside superstar foods and supplements. You'll discover simple yet surprising weight-loss secrets; GI-enhancing probiotics; ways to balance thyroid function; and low-copper, high-zinc meal plans that instantly speed up metabolism. Uniquely effective, Fat Flush for Life offers an enjoyable and nutritionally sound method to keep the pounds off permanently.
Da Capo Lifelong Books, 9780738214313, 288pp.
Publication Date: May 3, 2011
About the Author
Ann Louise Gittleman holds an MS in Nutrition Education from Columbia University, the title of Certified Nutrition Specialist (CNS) from the American College of Nutrition, and a PhD in Holistic Nutrition. The author of more than twenty books (including several New York Times bestsellers), Gittleman has also served as the Chief Nutritionist of Pediatric Clinic at Bellevue Hospital and is the former Director of Nutrition at the Pritikin Longevity Center in Santa Monica, CA. She currently sits on the Advisory Board for the International Institute for Building-Biology & Ecology, the Nutritional Therapy Association, Inc., and Clear Passage, Inc.