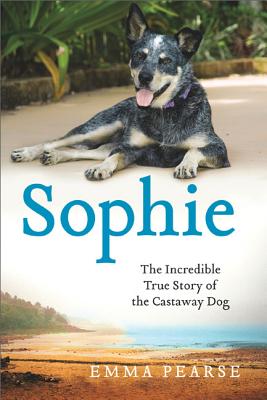 Sophie: The Incredible True Story of the Castaway Dog (Hardcover)
The Incredible True Story of the Castaway Dog
Da Capo Lifelong Books, 9780738214672, 307pp.
Publication Date: January 24, 2012
* Individual store prices may vary.
or
Not Currently Available for Direct Purchase
Description
The story that became a global sensation: Sophie, the Australian cattle dog who was lost at sea and swam six miles through shark-infested waters to a remote island where she survived in the wild for five months.It was just another day in paradise as Jan and Dave Griffith, along with their blue cattle dog, Sophie, motored out of Mackay Marina for a gorgeous weekend at sea. But when the sky suddenly darkened and the waves turned fierce, the unthinkable happened: Sophie disappeared overboard. Her heartbroken humans couldn t fathom the loss and could only hope their beloved pet didn t suffer. But this true cattle dog and devoted best friend wasn t going to give up that easily and what followed is a remarkable tale of survival, luck, and persistence.From the first day the Griffiths set eyes on puppy Sophie through that terrible October day she was lost, to Sophie's time as a castaway and the reunion that almost didn t happen, journalist Emma Pearse recreates the incredible journey of this canine Robinson Crusoe. An inspirational story of loyalty and the resilience of the spirit, Sophie offers undeniable proof about the unbreakable bond between humans and our pets and that if lost, they would do anything to come home to us.
About the Author
Emma Pearse is an Australian journalist who lived in New York for over ten years, where she wrote for New York magazine, the Financial Times, and The Village Voice, among others. Emma lives and works between Australia and New York. This is her first book.
Praise For Sophie: The Incredible True Story of the Castaway Dog…
Publishers Weekly, 10/3/11
"A tender, delightful story of how a cosseted pup turned into a hardy, intrepid—and very lucky—'supercanine,' this book will endear itself to dog and adventure lovers everywhere."

Kirkus Reviews, 11/1/11
"This story of canine loyalty and the power of human-animal relationships is as charming as its blue-furred heroine. A treat for dog lovers."
Temple Grandin, author of Animals in Translation and Animals Make Us Human, August 29, 2011
"It was amazing how this dog swam to a remote island and survived to be reunited with her family. All dog lovers should read this wonderful book."
Library Journal
"This emotionally uplifting saga of a Queensland, Australia, family who lost overboard their beloved blue heeler dog, Sophie, while on a weekend boating trip reflects the strength and loyal spirit of these people and canines….Animal lovers and survival story enthusiasts will enjoy this riveting, true store, told with strong local flavor."
Booklist, 1/1 issue

"Dog lovers will appreciate this heartwarming story of animal survival and the ties between humans and animals."
American Way, February 2012
"A heartwarming tale of the power of love and perseverance."
Shelf-Awareness, 2/3/12
"Both a hero's journey and a testament to the bond between humans and their beloved dogs…a compelling tale of hope that any dog lovers, whether they have suffered the heart-wrenching disappearance of a pet or not, will appreciate." 
Seattle Kennel Club. 2/1/12
"
Sophie
packs every bit of real-life drama with an absorbing Australian accent and a bit of refreshing good fortune to boot…remarkable and crisp narrative,
Sophie
nourishes as well as celebrates with a richly detailed mix of passion, inspiration and hope you won't soon forget."
Cesar's Way, March/April 2012
"Her story will encourage you." 
Richmond Times Dispatch, 3/4/12
"A miracle…and one that will touch not only readers devoted to their pets but also anyone who has known the healing power of love." 
Hudson Valley News, 3/1/12
"[A] miraculous story of a brave dog who survived insurmountable odds." 
Oprah.com, 3/16/12
"For dog owners who have ever gazed into the adoring eyes of their pet and felt like there were no bounds to what this creature would do for them...this book will confirm that hunch."
Dave and Jan believed "that childhood and family life were better with dogs." Would you agree, and why?
Did any of Sophie's personality traits or habits remind you of dogs you have owned? Like what?
What effect did Sophie have on Dave and Jan once they became empty-nesters? Can you relate to their experience in your own life? How so?
Do you think Dave and Jan let their feelings get in the way of their judgment in bringing Sophie on the boat?
What do you think of Dave and Jan's decision not to alert the authorities about Sophie's disappearance? What would you have done if you were in their situation?
Did Dave and Jan's reaction to Sophie's disappearance surprise you considering they had said that "they had always loved their dogs, but they were not sentimental"?
Did you think it was a good idea so soon after Sophie's disappearance to give Dave and Jan a new puppy? How did the new puppy, Ruby, impact the Griffith family, and how did she differ from Sophie in their eyes? And do you think it made it easier or harder for them to cope with the loss of Sophie?
Why do you think Sophie was able to survive in the open ocean and for five months on the islands of Keswick and St. Bees? Is it explained, as Australian vet, Rob McMahon says, by the fact that it "would take a dog as tough as a cattle dog to do it," or could there be some other explanation?
Was Jan's sense of Sophie's being alive when Dave and she were on St. Bees just wishful thinking, or was it a premonition?
Why do you think Sophie chose not to respond when several people who lived on the island, including Peter Berck, offered her food and companionship? Do you think it was out of loyalty to the Griffith family, as suggested in the book?
How did Sophie's extraordinary return home affect the relationships between members of the Griffith family—Dave, Jan, Bridget, Luke, and Ellen?
Have you ever experienced or heard of a similar story of a dog or any pet overcoming tremendous adversity?
What does this story say about the bond between pets and their owners?
Advertisement