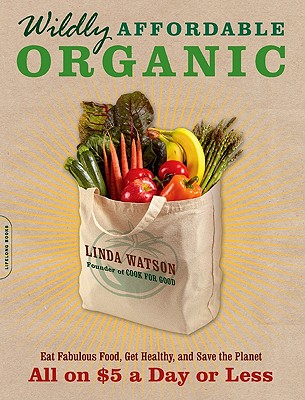 Wildly Affordable Organic
Eat Fabulous Food, Get Healthy, and Save the Planet -- All on $5 a Day or Less
Paperback

* Individual store prices may vary.
Description
Buy Green. Eat Green. Save Green.

If you've wanted to eat like it matters but felt you couldn't afford it, Wildly Affordable Organic is for you. It's easy to think that "organic" is a code word for "expensive," but it doesn't have to be. With these ingenious cooking plans and healthy, satisfying recipes, Linda Watson reveals the incredible secret of how you can eat well every day--from blueberry pancakes for breakfast to peach pie for dessert--averaging less than two dollars a meal.

Get ready for wild savings! You'll discover how to:
Ease your family into a greener lifestyle with the 20-minute starter plan
Go organic on just 5 a day--or go thrifty and spend even less
Take advantage of your freezer and freeze your costs
Find the best deals at your local farmers' market or grocery store
Cook easy, scrumptious, seasonal dishes from scratch

Packed with tips for streamlining meals, from shopping and cooking to washing dishes, this book shows how sustainable living is within everyone's reach. Slow global warming with delicious dinners? Lose weight, save money, and save the polar bears at the same time? When you live the Wildly Affordable Organic way, it is possible! Join the movement to change the way you eat--and keep the change.

Praise For Wildly Affordable Organic: Eat Fabulous Food, Get Healthy, and Save the Planet -- All on $5 a Day or Less…
San Francisco Book Review, August 2011
"Watson's recipes are simple, her methods make sense, and readers are left wanting to put her ideas into action."
Curled Up with a Good Book
"Armed with this book and Watson's tips, strategies, and clear-eyed investigation, anyone with a sincere desire to eat well on a tight budget can easily and quickly transition to just such a healthy lifestyle…Wildly Affordable Organic is something of an epiphany, what with the detailed budget and expenses included and the vast array of possibilities. This one should be required reading in high school Life Skills classes and for every household."
Midwest Book Review, August 2011
"This book tells how to eat healthy on three dollars a day and packs in tips for healthy organic food preparation on a budget, from menus and recipes to shopping and food options. Health and culinary collections as well as general and homeowner libraries will relish this approach."
Prevention, October 2011
"The barriers to cooking organic—hefty price tags, hours over a hot stove—vanish, thanks to these quick, delicious meals you can make for less than 5 a day."
InfoDad.com, 7/7/11
"Most useful for its shopping information and its well-constructed once-a-month, seasonal shopping lists; these are what elevate it above standard advocacy books and above other cookbooks containing recipes similar to the ones here."
Girlfriendbooks.com, 7/20/11
"Remarkable."
USA Weekend, 7/17/11
"Secret weapon."
Grandparents.com, 8/2/11
"Try [these recipes], and you'll see that organics can be an attainable and delicious option for your family."
Library Journal, 4/22/11
"Watson demonstrates realistic ways to cook inexpensively yet healthfully without living in the kitchen. Well written and full of useful ideas and tips…Verdict: With the twin concerns of health and food costs very much on consumers' minds lately, this is likely to be popular."
Kirkus Reviews, 5/15/11
"A unique addition to the genre, this sustainable take on everyday meal planning is both practical and contemporary."  
Portland Oregonian, 6/7/11
"Most of the recipes are simple and time-saving, offering lots of options for on-the-go people."  
Technorati.com, 6/27/11
"[A] strong introduction to organic cooking, offering recipes that will appeal to vegetarians, vegans, and people who just happen to love fruits and veggies. The money-saving and health benefits are added value."  
Tucson Citizen, 7/1/11
"Part cookbook and part shopping guide, Watson gives readers the tools they need to eat well and reduce their impact on the environment without spending top dollar."
Da Capo Lifelong Books, 9780738214689, 272pp.
Publication Date: May 31, 2011
About the Author
Linda Watson, the founder of CookforGood.com, created her wildly affordable cooking plans after being inspired by a national challenge to eat on a food-stamp budget. She credits her background in project management helping her to not just survive but thrive on just a dollar a meal per person. Her 2013 SNAPcut Challenge used WAO recipes to cook organic and local even on the newly reduced food-stamp budget.

Linda has a certificate in Plant-Based Nutrition from eCornell and the T. Colin Campbell Foundation. She's had a wildly varied career so far, including developing a top-secret expert system, working with Tom Clancy and Douglas Adams on computer games, and riding the dot-com wave with eGarden.com. Today she teaches cooking through classes, books, and videos. Watson lives in Raleigh, North Carolina, with her husband.
In the first chapter, Linda describes her first shopping trip on a dollar-a-meal budget. What made it difficult? What would you have done differently? How has the way you shop and cook changed with your financial circumstances?
The first night of her budget experiment, Linda uses a bread machine to make bread. What recipes did she develop to avoid using this appliance? Why? What appliances do you use regulary to make your cooking easier or more fun?
Linda learned a lot about thrifty and delicious cooking from her mother-in-law who learned to cook from scratch while living on a farm during the Depression. What have you learned from your mother or other family members? How have cooking and family meals changed over the past few generations? Who is the biggest influence in your cooking style? How are you sharing your cooking skills with others?
In the TED talk below about the origins of pleasure, Paul Bloom says that we are essentialists: our beliefs about the origins of objects change our perceptions of their value. He cites studies showing that kids will enjoy vegetables more if they think they come from McDonalds and that adults enjoy wine more if when they think it's expensive. Do you think that's true for you? What other indicators of value can you give foods so that thrifty meals are even more enjoyable?
Wildly Affordable Organic has 100 recipes, but it also has shopping lists, menus, and cooking plans. What other organizational ideas did you find useful? What do you do to manage the whole cycle of feeding your family, from planning, shopping, and growing to cleaning and storage?
One chapter is called "Something from Nothing." Would you try any of these techniques to squeeze more out of your food dollars? What tricks do you use that aren't in the book?
Have the buy-local and organic movements changed the way you shop? How? What's more important, local or organic?
The subtitle for Wildly Affordable Organic mentions "Get Healthy." What did you see in the book that would make you healthier? What could be adopted by your schools and organizations to make the population as a whole healthier?
Another part of the subtitle says "Save the Planet." How can something as personal and simple as food choices help save the planet? What does it mean to "vote with your fork?" What are you voting for with yours? Does this book inspire you to try something new?
Joel Berg of the New York City Coalition Against Hunger says that good community nutrition is like a stool with three legs: affordability, availability, and education. Are there areas in your community where people might have money for food but no access to healthy ingredients? Are there people who can get good food but don't have a place, equipment, or skills to cook? What can you do to improve this situation?
Linda says "thrift enables luxury." What does she mean? If you do this yourself, what are some examples?
or
Not Currently Available for Direct Purchase