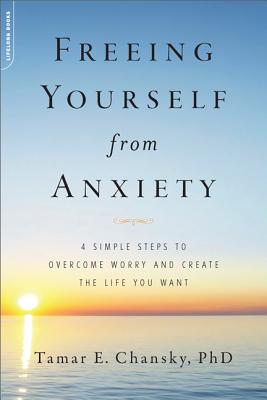 Freeing Yourself from Anxiety
4 Simple Steps to Overcome Worry and Create the Life You Want
Paperback

* Individual store prices may vary.
Other Editions of This Title:
Digital Audiobook (1/30/2012)
Description
Is worry wearing you out? Whether it's losing sleep over a deadline, fretting about a relationship, or constantly thinking about what you "should have" done or said, anxiety makes life feel like a race from one overwhelming situation to the next.

Freeing Yourself from Anxiety reveals the real secret to reducing stress: not positive thinking, but possible thinking. In this breakthrough guide, Dr. Tamar Chansky shows you dozens of simple yet powerful strategies you can use at any time to transform your anxious thoughts, conquer perfectionism and procrastination, and improve the way your brain reacts to stress, even without medication.

For anyone suffering with an anxiety disorder or depression, or who simply wants to handle everyday challenges more optimally and successfully, Dr. Chansky's innovative program will help you breathe easier. Get ready to feel calm, confident, more like yourself again—and free to create the life you want.

Praise For Freeing Yourself from Anxiety: 4 Simple Steps to Overcome Worry and Create the Life You Want…
"Might help you get off the worry-go-round…Freeing Yourself from Anxiety can help change you
r
worrywart tendencies." 
Calgary Herald (Canada), 3/9

"Whether you're a perfectionist, negative thinker or lifelong worrywart, it's a good resource to get the ball rolling on a less-stressful life." 
Midwest Book Review, March Issue
"It's for everyone, covering daily frustrations and how to react to them more positively. From an introduction on how the brain handles anxiety to steps to seeing problems in a more rational manner, case histories supplement keys to possible thinking patterns in a title recommended not just for psychology holdings, but for any general lending library strong in self-help books on positive change."
Bookviews (blog), April 2012
"If this problem is one in your own or the life of someone else you know this book will prove a life-changing experience."
Montreal Gazette (Canada), 3/24/12
"Too much to do? Lots to worry about? Anxious feelings making you even more anxious? This book by Tamar E. Chansky may help calm you down. Though Chansky…includes a chapter on such conditions as obsessive-compulsive disorder, panic disorder and post-traumatic stress disorder, she also offers useful advice to those with garden-variety anxiety…Chansky has a lively, accessible style. Her concrete, often humorous analogies can help us fight our anxious demons." 
Reference and Research Book News, April 2012
"Clearly written, it expands the focus beyond just anxiety and provides sections on assessing one's strengths and cultivating compassion and gratitude." 
Curled Up with a Good Book, 4/18/12
"Offers common sense practical options to the epidemic of overreaction that is running rampant today. It is an imminently readable book because it does not talk down to readers or fly above their heads. If you or someone you know can be labeled a perpetual worrywart, buying
Freeing Yourself from Anxiety
is one of the best things you can do for yourself or them."
InfoDad.com, 2/16/12

"Shows how self-defeating thoughts and behaviors can be managed more effectively." 
Bangor Daily News, 2/20/12
"This excellent book just came out but it is already a classic." 
Philadelphia Tribune, 2/10/12
"Offers dozens of simple yet powerful strategies…Armed with [Chansky's] strategies, readers can achieve accurate perceptions of their lives that can liberate them from fear and perfectionism." 
VIVmag.com, 2/22/12

"Picking up this book just might be the helpful first step we can take, changing what Chansky calls our 'worry story' to the life story we want."
Spirituality and Practice
"The last section of the book contains a treasure-trove of material on coping with anger, jealousy, loss, shame, procrastination, perfectionism, failure, and criticism. Chansky proves her skills as a clinical psychologist with case histories of people dealing with various anxiety disorders. She really impresses when she offers wise counsel on handling these heavy hitters that are obstacles to the life we want."
"The Bookworm Sez" (syndicated column)
Reid Wilson, PhD, author of Don't Panic
"Surprisingly easy ways to change your worried mind."
Therese J. Borchard, author of Beyond Blue
"If a brain were to come with operating instructions, it would consist of these pages."
Daniel Gottlieb, PhD, author of Letters to Sam
"[A] gifted writer and clinician … Chansky takes the reader by the hand and guides them through the complex maze of thoughts and emotions in a way that is wise, compassionate, and knowledge-based. This is the gift of Freeing Yourself from Anxiety."
Blogcritics.org, 2/6/12
"[Chansky] shares powerful strategies to help change how one reacts to anxious thought and responds to stress…Chansky is a gifted writer. Her style is clear and entertaining; it's definitely not a clinical, textbook read. She provides illustrations and quotes which add levity and helps the reader understand the concepts she describes. This book will appeal to anyone who suffers with an anxiety disorder or anyone who knows a life-long 'worrier' who is in need of help facing everyday challenges." 
WomanAroundTown.com, 2/16/12
"Chansky addresses the issue head on." 
Da Capo Lifelong Books, 9780738214832, 336pp.
Publication Date: January 31, 2012
About the Author
Psychologist Tamar Chansky, PhD, is the founder and director of the Children's Center for OCD and Anxiety and the author of Freeing Your Child from Anxiety. She lives in Philadelphia.