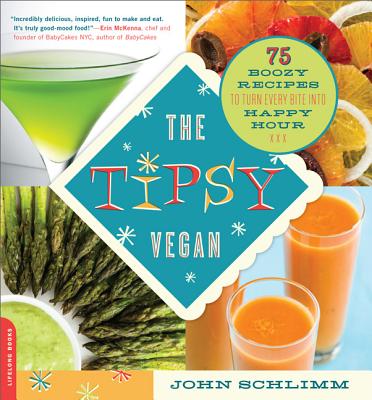 The Tipsy Vegan (Paperback)
75 Boozy Recipes to Turn Every Bite into Happy Hour
Da Capo Lifelong Books, 9780738215075, 176pp.
Publication Date: November 22, 2011
* Individual store prices may vary.
Description
Vegan Cupcakes Take Over the World
meets
The Boozy Baker
meets
Vegan Comfort Food
in this full-color, hip cookbook. Award-winning author John Schlimm brings together everyone's two favorite hangouts: the kitchen and the bar. A member of one of the oldest brewing families in the United States and author of the largest beer cookbook ever published, Schlimm knows a thing or two about boozing up his food.
The Tipsy Vegan showcases plant-based recipes using favorites from the bar circuit—wine, beer, vodka—as key ingredients. From spiked appetizers, soups, and salads to blitzed main dishes, desserts, and, of course, cocktails, these buzz-worthy recipes make sure you have a blast, whether you're preparing for a houseful of guests or a party for one.
Recipes include: Carousing Cucumber Rounds with Rummy Hummus, Plastered Portobello Mushroom Satay, Wild Rice Under the Influence, The Hotta Frittata with Chopped Jalapeño Pepper, Slur-Baaaaked Peaches with Cointreau, Bottom's Up VegeBean Stew, Bad-Ass Beer Cake with Bourbon Raisins and Amaretto Frosting, and more.
About the Author
John Schlimm is a member of one of the oldest brewing families in the US. He is the international award-winning author of several books, including The Ultimate Beer Lover's Cookbook (awarded the "Best Beer Book in the U.S." and "Best Beer Book in the World" by the Gourmand Awards), Harrah's Entertainment Presents . . . The Seven Stars Cookbook, Tipsy Vegan, and Grilling Vegan Style, among other titles. He holds a Master's degree from Harvard University, and travels the country speaking about cooking, entertaining, and public relations. He lives in Pennsylvania.
Praise For The Tipsy Vegan: 75 Boozy Recipes to Turn Every Bite into Happy Hour…
EatDrinkBetter.com, 11/28/11
"Overall, the recipes are just fun in The Tipsy Vegan. They're great for anyone."
Hudson Valley News, 11/30/11
"In this world of food, it's always happy hour…Yes, Virginia, you can get through another holiday. Cheers."
JLGoesVegan.com, 12/6/11
"This book screams fun…John Schlimm is clever and funny and his recipes are really solid.  He uses great ingredients that we know and love in dishes that are fun, and simple, to prepare."
San Francisco Guardian, 12/13/11
"This book is a carnivorous teetotaler's nightmare, boasting 75 boozy recipes…A nice touch: glossy food porn shots on every page."
January, 12/9/11
"Not your everyday vegan cookbook…A party waiting to happen: just add booze and stir."

Vegansaurus.com, 12/13/11
"The recipes and ingredients are inventive and interesting. And the book is entertaining…So I say check it out and get a little crazy. A little crunked, even. Go for it."

InfoDad.com, 12/15/11
Technorati.com, 11/18/11
"Give The Tipsy Vegan as a Holiday gift to vegans, vegetarians, and omnivores (tell the omnivores not to be scared)—the recipes are fun for all types of gatherings (except, maybe, the church covered-dish social or Johnny's fifth birthday bash), easy to prepare, and—best of all—yummy in the rum-tum-tummy." 
WeBeSharin.com. 11/17/11
VeggieGirl.com, 12/16/11
"John Schlimm's new book
The Tipsy Vegan
is here to squash stereotypes and show people who are unfamiliar with vegan cooking how fun it can be. The dishes in this book are fun, flavorful and easy to make, and John's sense of humor shines through with recipe names such as 'Cocky Coconut Rice' and 'Oh Snap! Stir-Fried Sugar Snap Peas.' Any lover of good food—vegan or omnivore—will love the dishes you cook up with this book."

VegNews, February 2012
"Schlimm writes Tipsy with all the swagger and sass of someone who's had a few—and we like it…With quotes about drinking from famous types…a guide to a properly stocked liquor cabinet, and an adorable design, Tipsy's about as much fun as you can have—until you actually whip up a few of the recipes, when it gets even better."

Tucson Citizen, 12/26/11
"Few cookbooks can bring together the flavors of the kitchen with the fun of the bar but John Schlimm, a member of one of the oldest brewing families in the United States, does that and more in his new festive collection. His plant-based recipes are laced with such spirited ingredients as beer or brandy to reveal the wilder side of vegetables. All I can say is that guacamole made with tequila has never been more fun."
"The Tipsy Vegan is small, square, and the perfect size to pack in a tote bag when shopping for the dinner party, as well as for keeping in the kitchen for everyday dinner inspiration. Fun read, with 75 different recipes using ingredients that are easy to find."

Eco Mama's Guide to Living Green (blog), 12/29/11
"It's campy and is packed with colorful photos and illustrations making it fun to read and perfect for a hostess gift.  It would be fabulous for non vegans, and what an introduction to the genre!  The slightly naughty will love this."

CookbookMan.com, 1/4/12
"The Tipsy Vegan is filled with tasty dishes that pack a punch."

MamaLovesHerBargins.com, 1/2/12
"The recipe titles are all cute and silly but the recipes are tasty and well thought out.  This book would be a great gift for a vegan, vegetarian or omnivore."
Portland Book Review (OR), 1/11/12
"Schlimm…has put together a winning collection… Each of the eight cleverly titled chapters—including Plastered Party Starters, Boozy Soups, Sloshed Suppers and Drunken Desserts—includes a starter cocktail and several appetizing dishes that will please vegans and non-vegans alike. The accompanying photography and breezy writing style are also appealing. Cheers to a cookbook that brings a collection of vegan dishes from the marginal to the mainstream!"
Midwest Book Review, February 2012
"Will delight vegan cooks wishing to add more spice to their dishes."  
The Vegetarian (UK), Spring 2012
"The book is cleverly indexed so that you can choose your recipe based on which liqueur, wine, or spirit you like."
ChowVegan.com, 4/6
"There's so much packed into this little gem of a cookbook—from the clean, one-recipe-per-page layout with gorgeous photos to the fun and witty writing. Each of the eight chapters begins with a cocktail recipe, and covers everything from 'Plastered Party Starters' to sloshed soups, salads, sides, and boozy brunch, lunch and supper to 'Drunken Desserts.' Now, you can have your booze and eat it too."

Peta.org
"These outside-the-box dishes and drinks are easy to prepare and even easier to make disappear, and they will surely impress anyone who partakes of them."

Examiner.com, 12/29/11
"With beautiful, vivid photography and a refreshingly lucid tone despite the focus on spirits, The Tipsy Vegan is already a winner, but with a cookbook, no matter how fun the novelty, the recipes are what it's all about, of course. This cookbook does not disappoint. An efficient but muscular little book, the recipes featured here are largely variations on classics but full of fun, flavor and spark. The booze isn't added as an afterthought but as an integrated, key facet of the recipe…I recommend The Tipsy Vegan as a fun, light cookbook with an interesting hook and creative recipes."

Brookville Tri-CountySunday, 12/24/11
"Those looking for a new way to celebrate the New Year and create a new menu for Superbowl parties may find this book to be just the ticket."

Sand and Succotash (blog), 1/1/12
"Schlimm's recipes are off the beaten vegan-cooking track, and his amusing comments on them make reading this small-size book enjoyable."

GreenWala.com, 12/13/11
"It's campy and is packed with colorful photos and illustrations making it fun to read and perfect for a hostess gift. It would be fabulous for non vegans, and what an introduction to the genre! The slightly naughty will love this."
 
Target Audience Magazine, Fall 2011
"Schlimm's sense of humor shines through in many of the descriptions…[he] definitely deserves my plaudits for this wonderful-for-the-holidays as well recipe book which is sure to not only empower you in having the options of vegan eating, but also for the unputdownable fun he adds via the titles of the recipes, descriptions of each recipe and in his hilarious 'Introduction.'"
Texas Kitchen (blog), 12/17/11
"The Tipsy Vegan brings together some really amazing recipes that combine your favorite foods and booze. Being Vegan does not have to be boring. Kick it up a little with these great recipes. You will be surprised by the creativity author John Schlimm brings to the table. Excellent photographs throughout."
or
Not Currently Available for Direct Purchase