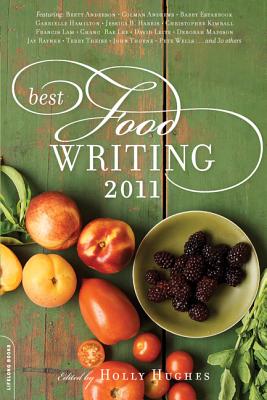 Best Food Writing (Paperback)
Da Capo Lifelong Books, 9780738215181, 305pp.
Publication Date: October 4, 2011
* Individual store prices may vary.
or
Not Currently Available for Direct Purchase
Description
Food writing has exploded in the past decade; nowhere else is it as easy and enjoyable to catch the trends, big stories, and upcoming stars than in the annual Best Food Writing collection. From molecular gastronomy to the omnivore's dilemma, from meat-free to wheat-free to everything goes, there's something for every foodie in this acclaimed series.
Best Food Writing 2011 once more authoritatively and appealingly assembles the finest culinary prose from the past year's books, magazines, newspapers, newsletters, and websites, featuring both established food writers (such as Anthony Bourdain and Ruth Reichl), rising stars (such as J. Lopez Kenji-Alt and Novella Carpenter), and some literary surprises (Jonathan Safran Foer, who contributed to Best Food Writing 2010).
About the Author
Holly Hughes has edited the annual Best Food Writing series since its inception in 2000. The author of Frommer's 500 Places for Food and Wine Lovers, she lives in New York City.
Praise For Best Food Writing…
Hudson Valley News, 10/5/11
"Foodies will want to own a copy of Best Food Writing 2011, edited by Holly Hughes, the latest addition to a timeless (annual) anthology of culinary prose that's sure to inspire your inner gourmet…This is the perfect book for people who don't only love to eat and to prepare food, but who love [to] read about it as well." 
Publishers Weekly, 10/24/11

"Hughes's sense of humor and deft selections keep things balanced. There is truly an essay for every foodie here." 
SeriousEats.com, 10/9/11
"This year's compilation is definitely worth a read…There's a wide range of writing in this book and all of it is excellent. With
Best Food Writing
not only will you pick up some great stories, but you will also be exposed to a range of writers who otherwise might get lost in the expansive field of food writing." 
The Thirteenth, 11/2/11

"Hughes culls publications worldwide for great food writing and they're all here in one neat, little package." 
Technorati.com, 11/13/11
"
Best Food Writing 2011
isn't only about food, but—more importantly—our relationships with food, how it serves us, how we serve it. For those who have developed the fine art of eating, whether it's fried Twinkies or the incredibly-difficult-to-prepare fried lettuce,
Best Food Writing 2011
is the gift to receive this holiday season." 
Edible Boston, Winter 2011

"Worth the list price."  
Curled Up With a Good Book

"
Best Food Writing 2011
offers up an extensive and delectable menu of gastronomic delights. A must-read treat for anyone who loves food. Five stars."  
Colorado Springs Independent, 12/19/11
"This collection of food writing from across the country is again curated by Holly Hughes, who rarely fails to find a year's don't-miss stories." 
Midwest Book Review, December 2011

"From how 'soul food' expanded African American culture to how a cook changed from a recipe-follower to a cook operating on instinct and personal knowledge, this is packed with deliciously intriguing discussions of all types of foods, trends, and personal experiences and is a 'must' for literary and culinary collections alike."
Tucson Citizen, 1/6/12
"This collection has something to please the tastes of almost every reader."
San Francisco Book Review, 1/14/12

"Holly Hughes has gathered up some of the industry's finest culinary-inspired stories and essays in this year's dish: a real farmer's market of variety here…There is sure to be something to satisfy every palate, from novice to connoisseur…No overwhelming aftertaste here, just a smoothly savoring sampler." 
WomanAroundTown.com, 12/26/11
"A compendium of all that's new and exciting for lovers of delicious cuisine. Essays on the joys of frying, what the rich and the poor buy and why, and some delightful guilty pleasures make this paperback ideal reading for those with good taste."

Internet Review of Books, 2/13/12

"As tasty as a platter of holiday appetizers…a fine read."
Campus Circle, 3/29/12
"Mouthwateringly good."
Spirituality & Practice, 4/24/12
"The fare here is quite appealing." 
Greensboro News and Record, 4/29/12
"Would make a great gift for any aspiring foodie."
Advertisement