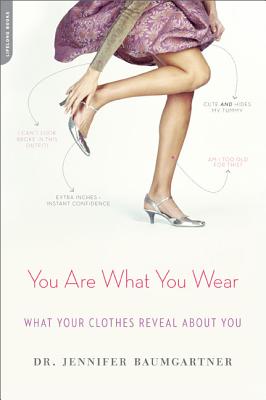 You Are What You Wear: What Your Clothes Reveal about You (Paperback)
What Your Clothes Reveal about You
Da Capo Lifelong Books, 9780738215204, 250pp.
Publication Date: March 27, 2012
Description
Most every woman has found herself with a closet full of too many clothes or surrounded by brand-new items that somehow never get worn. Instead she gets stuck wearing the same few familiar pieces from a wardrobe that just doesn't feel "right." Dr. Jennifer Baumgartner argues that all those things are actually manifestations of deeper life issues.What if you could understand your appearance as a representation of your inner unresolved conflicts and then assemble a wardrobe to match the way you wish to be perceived? In this fashion guide that is like no other, Dr. Baumgartner helps readers identify the psychology behind their choices, so they can not only develop a personal style that suits their identity but also make positive changes in all areas of life.
About the Author
Jennifer Baumgartner, PsyD, is a practicing clinical psychologist who also runs her own wardrobe consulting business, Inside Out. She lives in Potomac, Maryland.
Praise For You Are What You Wear: What Your Clothes Reveal about You…
Phillip Bloch, fashion expert, author & TV personality
"If your wardrobe isn't working for you, don't go off and buy another piece of clothing, buy this book! The answer to the age-old question 'What should I wear?' is right here. An insightful, informative, and relevant approach to dressing yourself when you just don't have your own celebrity stylist."
Dr. Robin Zasio, PsyD, featured doctor on the A&E hit series "Hoarders" and author of The Hoarder In You
"Dr. Baumgartner gives us a captivating look into the psychology of what we wear. Her perspective is insightful and relatable, offering a unique opportunity to unlock this complex relationship." 
Tamar Chansky, PhD, author of Freeing Yourself from Anxiety
"What a great book! Dr. Baumgartner's wise guide teaches us not only what our clothes reveal about our shopping or hoarding tendencies, but about our dreams, memories, and emotions. A fascinating read with great practical advice."  
Regina Leeds, New York Times bestselling author of One Year to an Organized Life
"I have long held the belief that going through a closet is like reading a short story. Your life is revealed through your clothing choices. Dr. Baumgartner holds your hand and gently leads you from confusion to clarity. After reading this book, you'll never view 'retail therapy' in the same way." 
Heather K. Jones, RD, author of Drop 5 Lbs
"Learning the how and why behind your wardrobe will have a profound impact on how you dress! Dr. Baumgartner offers doable solutions to help you clean out your closet...and your life.
You Are What You Wear
is a must read for women of all ages!" 
PopMatters.com, 3/27/12
"Baumgartner showcases many success stories in the book and with phrases like 'closet constipation' is often witty and fun. And in doing so, she fulfills the book jacket's promise to help readers break out of fashion ruts, 'look current at any age' and 'create a balanced, beautiful wardrobe.'" 
Bookviews (blog), April 2012

"A book to help the fashion-challenged in time for the new spring line…For anyone who approaches the purchase of new clothes either buying and spending too much or with a certain sense of dread, this is definitely the book to read!"

Library Journal, 4/1/12
"This fascinating book tells readers how to examine their wardrobe and their emotions and create harmony by reconciling the two…Recommended." 
Philadelphia Tribune, 3/23/12

"[A] fashion guide that is like no other." 
DailyFrontRow.com, 3/27/12
"Just a quick skim or chapter of this relatable read and you're bound to be overcome with an urge to purge your hangers, but better fitting jeans, and change the way you shop." 
San Francisco Book Review / Sacramento Book Review, 4/20
"Might nudge you to get rid of those hole-riddled stained sweatpants and opt for something that portrays you to the world in a more positive way." "
Bookworm Sez" nationally syndicated column, 4/30/12
"So your Dress for Success plan is coming unbuttoned? The look you thought was cool makes you look a fool? Then this book can help…Baumgartner does a thorough job in helping women (and men!) to understand what they need to do to find the look they need with maximum style and minimal cash outlay…If you've ever been told to tone your wardrobe down, spice it up, or update it, buckle down with this book." 
Cleveland Plain Dealer, 5/2/12
"Get ready to dive deep into your closet, and your psyche…It's fascinating to read how much what we wear on the outside reflects who we are on the inside." 
Blogcritics.org, 4/29/12
"Helps you uncover the real reasons behind our choices and the solutions to almost every woman's fashion dilemmas…If you're concerned about the state of your wardrobe or your closets,
You Are What You Wear
is definitely an eye opener." 
InfoDad.com, 5/3/12

"Baumgartner presents 'the psychology of dress' in an entertaining fashion…Her basic approach—which is, boiled down to its essence, to
think
about your clothes and be mindful of what they say and why you buy and wear them—is worthwhile…Baumgartner does a good…job of analyzing what different forms of clothing say about the women wearing them, and her positive reinforcement will be appreciated by women who genuinely want to change their look." 
VIVmag.com, 5/16/12
"Baumgartner gets to the issues underlying wardrobe woes…Part style guide, part psychological examination."

Hutchinson Leader, 6/14/12
"Lots of interesting insights."

Curled Up with a Good Book, 6/22/12
"Baumgartner doesn't sneer at our fashion flubs; her tone throughout the book is respectful, sympathetic, and nurturing…What Baumgartner helps us to understand is that clothing is an outward manifestation of some inner turmoil." 
RadiantLit.com, 6/22/12
"Helpful in explaining why we do the things we do and how we can change our behaviors…While this book is not meant to take the place of professional counseling, the reader can learn general reasons for personal issues and how those manifest themselves in our clothing. Without being preachy or harsh, Dr. Baumgartner effectively shows readers that it's possible to improve ourselves and have it show in how we dress. Entertaining and helpful,
You Are What You Wear
definitely gives some credence to retail therapy."

Tucson Citizen, 7/19/12
"[A] nifty new book…If you want to dress and feel better about yourself and how you look, this could be the guide you have been searching for."
New York Times, 8/30/12
"[An] insightful book."
Blog Business World, 8/25/12
"[An] insightful and transformational book…Jennifer Baumgartner understands that a person's clothing selections reflect much more about the individual's inner life than most people think…This book will help employment seekers, business and professional people, families, and anyone else put their best selves forward and show the world they are ready for success."
Midwest Book Review, August 2012
"Provides fine insights into how wardrobe choices reflect life perspectives and inner emotions…Readers will find [it] insightful and engrossing."
Advertisement