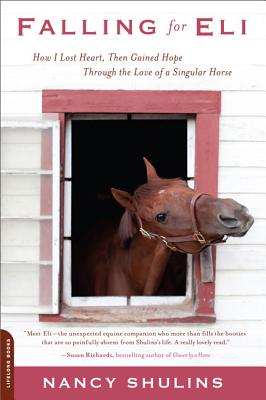 Falling for Eli (Paperback)
How I Lost Heart, Then Gained Hope Through the Love of a Singular Horse
Da Capo Lifelong Books, 9780738215273, 258pp.
Publication Date: April 24, 2012
* Individual store prices may vary.
Description
Nancy Shulins had a great career, a loving husband, and was looking forward to having a family. Cheering as her friends got pregnant and dutifully bringing gaily wrapped gifts to every baby shower, she suffered bout after bout of unsuccessful infertility treatment. Devastated, she slowly heals through the most unexpected route: the love of a good (if cranky) horse named Eli.
Everyone knows a woman who loves horses. Maybe she rides whenever she can find the time, maybe she rode as a young girl, or maybe she just devoured the Black Stallion books. Twenty years ago, Nancy Shulins let go of one dream--having a child--and worked toward another one: learning to ride and, eventually, having her own horse. In the process, she learned what it means to love another being so much you can't imagine life without them. Falling for Eli is about learning to break a sweat rather than break down, to try your best even if you'll never be the best; it's about learning to stand on your own six feet.
About the Author
Nancy Shulins was the first woman special correspondent in The Associated Press (AP). Her AP features earned two Pulitzer Prize nominations and a Clarion Award. She is the author of two books and lives in Norwalk, Connecticut, with her husband.
Praise For Falling for Eli: How I Lost Heart, Then Gained Hope Through the Love of a Singular Horse…
Lynne Cox, author of Swimming to Antarctica and Grayson
"This is a beautifully written and moving story about the way love creates restorative healing between a fragile human and fragile horse."
Scott Kraft, Senior Editor, Los Angeles Times
Falling for Eli is a deeply touching memoir, a refreshing and lyrical homage to love and new definitions of motherhood. Shulins is a smart, funny guide on this voyage of discovery and rediscovery, and her 1,200-pound 'baby' Eli will steal your heart."
Dolores Barclay, author, and Arts Editor, The Associated Press
"Love comes in all sizes and shapes, and Nancy Shulins opens our hearts to endless possibilities with her endearing, beautifully woven story of life with Eli. This book is sure to become a classic, and we'll always want to know what Eli will do next."
Publishers Weekly, 3/19/12
"Shulins proves to be a vulnerable, winning narrator in this story of redemption."
Animal People, April issue
"An uplifting memoir."
Herd in the Bookstore (blog), 2/27
"A well-written tale, readers will empathize with." 
Waterbury Republican, 4/22/12
"Engaging…
Falling for Eli
is the best sort of animal book: It's about animals, but it's also about the human animal." 
Shelf Awareness, 5/4/12

"Shulins's prose is a pleasure to read. She vividly depicts the dedication and passion required to love a horse long-term, as well as the limitless rewards in doing so…As Shulins shares her challenges and triumphs with Eli—her lovable but injury-prone gelding—and nurses him back from a series of ailments, including lameness, hives, Equine Protozoa Myeloencephalitis and a fractured shoulder, her heart is healed as well…An inspiring memoir about how 'motherhood' can take many forms." 
Library Journal, 5/3/12
"This book will appeal to horse and animal lovers as well as women who have struggled with getting pregnant." 
Booklist Online, 4/13/12
"In this heartwarming and soul-searching memoir, Shulins lets the reader in on her love affair with [a] temperamental chestnut." 
EntertainmenRealm.com, 5/11/12

"An easy-to-read memoir for any animal lover." 
InfoDad.com, 5/24/12
"The totality of the book gives exactly [the] impression: of a profound, tremendously meaningful connection between human and horse, in which there is genuine two-way communication." 
January, 6/4/12
"Nancy Shulins' fantastic personal journey is made all the more powerful by her fierce talent. The twice Pulitzer Prize-contending journalist knows how to tell a story; knows how to bring us along…Like the very best memoirs, Falling for Eli is a wonderful story, but it is also so much more. We are made, in a way, to think about motherhood and how the definitions around it have changed and continue to change…One of my top picks of the year." 
Sunday Greenwich Time, 6/10/12
"It's funny, sweet, and honest."

Internet Review of Books, 7/20/12
"This book is not just for horse lovers or those who can commiserate with Shulins' infertility issues, but for anyone who enjoys entertaining and exceptional writing of one woman's journey to motherhood."
DiscoverHorses.com
"A must read for any woman who has returned to horses later in life—or is thinking about it…It is beautifully written, the kind of writing that makes your mind feel as if it's having a spa treatment with just the right balance of stimulation and relaxation.…100 percent authentic…Read it. You won't regret it—and probably won't forget it. I have no doubt that I'll read it again someday—if I can get it back from my friends!"
Tucson Citizen, 8/08/12
"This remarkable story of the special bond that often develops between humans and animals is inspiring and beautifully written."

Midwest Book Review, August 2012
"Any collection strong in general-interest pet and autobiography accounts will relish this moving, inspiring story."
Oceana's Herald-Journal, 9/6/12
"As much a love story as a journey of healing…If you call yourself a horse person, or are looking for a story that has heart, this book is for you."
Horse & Rider, 9/26/12
"If you enjoy reading about the horse-human connection, this is a good read for you."