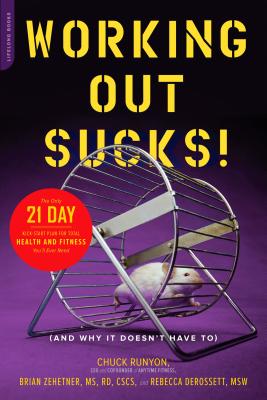 Working Out Sucks! (and Why It Doesn't Have To): The Only 21-Day Kick-Start Plan for Total Health and Fitness You'll Ever Need (Paperback)
The Only 21-Day Kick-Start Plan for Total Health and Fitness You'll Ever Need
Da Capo Lifelong Books, 9780738215693, 304pp.
Publication Date: January 3, 2012
* Individual store prices may vary.
or
Not Currently Available for Direct Purchase
Description
Tired of diet books that promise to change your life in five minutes? Tired of trying to get healthy and fitand really getting nowhere? Chuck Runyon, Brian Zehetner, and Rebecca DeRossett are here to confirm what you already know: Working out sucks. The good news? With the new approaches in this book, that is about to change.
Working Out Sucks deprograms those of us who have long been brainwashed by unhealthy habits, destructive attitudes, and misinformation about health, and offers a no-nonsense way to get back on track. Because, while working out may suck, the alternatives--from heart disease to premature aging and shortened lifespan--are a lot worse. As he does in his 1,700 Anytime Fitness clubs (with more than one million members worldwide--and growing), Runyon emphasizes user-friendliness and utility in this get-real, get-healthy message, complete with Zehetner's 21-day kick-start plan and DeRossett's tips for mental health.
About the Author
Chuck Runyon is the cofounder and CEO of Anytime Fitness, based in Hastings, Minnesota. Brian Zehetner, MS, RD, CSSD, CSCS, is the health director at Anytime Fitness, a registered dietitian, and a certified strength and conditioning specialist with more than fifteen years of experience in the nutrition and fitness industries. Rebecca A. Derossett, MSW, LICSW, is an executive coach for Anytime Fitness and the owner of Stillwater Psychological Associates in Stillwater, Minnesota.
Praise For Working Out Sucks! (and Why It Doesn't Have To): The Only 21-Day Kick-Start Plan for Total Health and Fitness You'll Ever Need…
BookPage , 1/1/12
"An audacious approach to the challenges that keep people from getting fit…Less a workout book and more an entertaining, kick-in-the-backside companion."
American Fitness, March/April 2012 "[Runyon's] take on exercise and eating well is relentlessly blunt, but he manages to drive all of his points home expertly with a fine dose of empathy and good-natured wit."
Advertisement