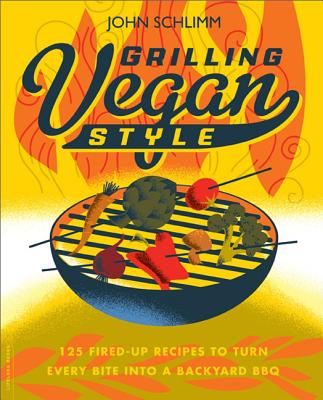 Grilling Vegan Style (Paperback)
125 Fired-Up Recipes to Turn Every Bite Into a Backyard BBQ
Da Capo Lifelong Books, 9780738215723, 240pp.
Publication Date: May 8, 2012
* Individual store prices may vary.
Description
Nothing says summer more than a feast hot off the barbecue. Grilling Vegan Style serves up backyard cooking and entertaining like never before. Running the gamut from plant-based appetizers, salads, sides, kabobs, and burgers to main dishes, desserts, and, of course, cocktails, John Schlimm also demonstrates the art of grilling faux meats, with key info on everything you need for proper heat and the best taste. With color photographs throughout, this cookbook ensures that the magic of a summer barbecue or a night around the campfire can ignite your taste buds all year long.
About the Author
John Schlimm, a member of one of the oldest brewing families in the United States, is the international award-winning author of several books, including The Ultimate Beer Lover's Cookbook. He lives in Pennsylvania.
Praise For Grilling Vegan Style: 125 Fired-Up Recipes to Turn Every Bite Into a Backyard BBQ…
VegNews (Twitter account), 2/6/12
"Here's how it is: We love @JohnSchlimm and can't wait for his grilling book to hit shelves!"
Rory Freedman, Co-Author of the #1 New York Times bestseller Skinny Bitch

"John Schlimm adds sizzle and flare to plant-based dishes up and down the picnic table.  Who knew you could have so much fun grilling everything from salads and sandwiches to desserts?! 
Grilling Vegan Style
 is more than a cookbook; it's a go-to handbook for outdoor living, eating, and celebrating." 
Gene Baur, President and Co-Founder of Farm Sanctuary

"
Grilling Vegan Style
cracks the code to making summer last all year round by combining equal parts compassion, fire, and nature's freshest ingredients.  This is a feast the whole family can enjoy, and feel good about!" 
Neal Barnard, MD, President of the Physicians Committee for Responsible Medicine

"
Grilling Vegan Style
brings you the best of all possible worlds—delicious, fun foods prepared in the most healthful way. For everyone who loves grilling, this is the way to do it right." 
Biz Stone, Co-Founder of Twitter and Obvious

"When I was a kid, the best thing in the world was grilling time. 
Grilling Vegan Style
 brings the nostalgia back and highlights that for me as a new dad, there is a way to share the ritual of 'food and fire' with my son." 
Inder Bedi, Founder and Creative Director of MATT & NAT

"We often cite several inspirations for what we do at MATT & NAT, however few of them get us salivating as does great vegan food! John's pioneering take on the traditional BBQ in
Grilling Vegan Style
(including desserts!) has gotten us VERY excited. Another cultural phenomenon has been brought into the 21st century, thank you John for providing vegans a path to partake in a favorite summertime tradition!" 
Chef Paul Kirk, CWC, Ph.B., B.S.A.S., Kansas City Baron of BBQ, and Author of Championship Barbecue and America's Best BBQ

"With
Grilling Vegan Style
, John has shown you ways to bring out flavors and taste you never thought possible. John's recipe for Party on South Peach Salsa especially is to die for and will go with almost anything." 
Ray Lampe AKA Dr. BBQ, Author of Ribs, Chops, Steaks, and Wings and Dr. BBQ's Big-Time Barbecue Cookbook

"I have to admit that I was a little skeptical about a Vegan Grilling book. After all in my world it's all about the meat. I might even be considered a Non-Vegan! But John's book has opened my eyes to the concept and his recipes are outstanding. The Slip-N-Sliders is a great recipe for everyone and I guarantee I'm going to try the Strawberry Skewers with Vanilla, I Scream! real soon!" 
Terry Hope Romero, Author of Viva Vegan! and Co-Author of Veganomicon

"Veggie backyard BBQ warriors and grill pan guerillas; John Schlimm, your knight in tofu armor has arrived, also bearing Spiked Ruby Daiquiris and other sipping delights." 
Marisa Miller Wolfson, Writer & Director of Vegucated

"I dare you to flip through this book and not already start to daydream about which mouth-watering recipe you'd use to wow your friends at the next backyard BBQ.  I can't decide who would be more fun to grill for: hipster gourmands on a rooftop in Brooklyn or my veganophobic friends in my dad's backyard in Indiana. The recipes in this book are equal opportunity wowers!" 
VegNews, May/June 2012
"Our love for John Schlimm knows no bounds. A relative newcomer to the vegan cookbook-writing scene, he had us at hello with 2011's The Tipsy Vegan. Schlimm's signature style is just that: stylish…The man knows his way around a theme, not to mention a barbecue. Just as he did with booze, Schlimm takes a single-subject book and broadens its scope beyond what was previously thought possible…But it isn't just the breadth and depth of his smokin' hot repertoire, it's the thoughtfulness, playfulness, and downright fun that Schlimm brings to his work…Schlimm is an author we'd love to stand around the grill with—gabbing, drinking, and saving the world all at once." 
Tucson Citizen, 5/8/12

"Proves that the backyard BBQ grill isn't just for meat…This is a fun cookbook and one that is user-friendly and highly recommended." 
Library Journal, 5/11/12

"With the heavy emphasis most grilling cookbooks place on meat, vegetarians and vegans may feel resigned to potato salad. Happily, this title delivers a varied, full slate of meal options." 
Epicurious.com, 5/24/12
"With chapters devoted to tapas, tailgating, picnics, and happy hour, much of the food is party-focused, but the overall effect is a summer's worth of vegan eating." 
Philadelphia Daily News, 5/30/12
"
Grilling Vegan Style
throws stereotypes into the flames, fusing that icon of he-man tech, the outdoor grill, with meat-free foods—all slathered with Schlimm's signature saucy style." 
VIV, 5/28/12
"Thanks to
Grilling Vegan Style
, there's no reason vegans should resign themselves to the marginalized group at summer barbecues—those who have to make do with crudités and side dishes." 
EntertainmentRealm.com, 5/29/12
"The lovely, appetizing food pictures make this cookery book one you just might put on your coffee table…There's something for everyone's palate in this cookbook." 
InfoDad.com, 5/31/12
"Committed vegans seeking something different will find much to enjoy here." 
CookbookMan.com, 5/31/12
"It is loaded with dishes for the grill that could convince even the heartiest of carnivores to give a Stacked Portobello Burger a try…Leading a vegan lifestyle is a commitment. It's becoming easier because of people like John Schlimm." 
GoodVeg (Blog), 5/27/12

"Whether vegan or not, the cookbook is sure to help anyone find the deliciousness in grilled salads, sandwiches, and desserts." 
Energy Times
Online, June 2012

"Dozens of creative recipes."

Washington Post, 6/12/12
"A common-sense and fun book about grilling that even carnivores can enjoy." 
FoxNews.com, 6/10/12
"This cookbook ensures that the magic of a summer barbecue or a night around the campfire can ignite your taste buds all year long." 
MamaLovesHerBargains.com, 6/12/12
"[A] fun and fabulous vegan cookbook…
Grilling Vegan Style
has a wide variety of grilling recipes that are going to blow the socks off of vegans and omnivores alike." 
WomanAroundTown.com, 6/7/12

"Refreshing, healthy, a delightful gift." 
EatDrinkBetter.com, 7/28/12

"The recipes in
Grilling Vegan Style
are inspired and inspiring. I recommend it for anyone, from novice griller to pro."
Portland Book Review, 7/5/12
"With some hundred and twenty five recipes, John Schlimm brings vegans wonderful grilled dishes in
Grilling Vegan Style
. The ten-page introduction is a must for the novice griller and even those experienced will benefit. Schlimm uses the grill for everything, even making popcorn, grilling lettuce and watermelon."

San Francisco/Sacramento Book Review, 7/5/12
"If there's one cookbook to prove that vegan fare doesn't have to be flavorless or boring, this just might be it…Whether you are a strict vegan or simply trying to incorporate more vegetables into your diet,
Grilling Vegan Style
overflows with great ideas. Not only are they easy and appetizing, but they use everyday ingredients you can easily find at your local farmer's market or health food store. Within these pages, grill meets vegan…in very a good way."

Sand and Succotash blog, 7/1/12
"Provides something for everyone: the recipes are healthful; the tips for grilling hard-to-grill items like tofu, tempeh, and seitan are spot on; and there are no shortage of new ways for old combinations."

VeggieGirl.com, 7/2/12
"A must have for anyone with a grill."
Bust, August/September 2012
"Whether you're vegan or just a veggie lover, this book has all the inspiration you'll need to get your coals burning for many cookouts to come."
Examiner.com, 7/15/12
"Whether you are a hardcore carnivore or totally committed to animal-free products, this cookbook kicks up grilling several notches…
Grilling Vegan Style
is definitely a go-to resource for the complete enjoyment of outdoor living, eating, entertaining and celebrating life."
Midwest Book Review, August 2012
"Cocktails, family-friendly drinks, and sides accompany dishes meant to make the most of the grill in a title recommended for any vegetarian or vegan cook."
Examiner.com, 9/21/12
"[The] variety, overviews, and the recipes make this book a fantastic addition to the cookbook collection."