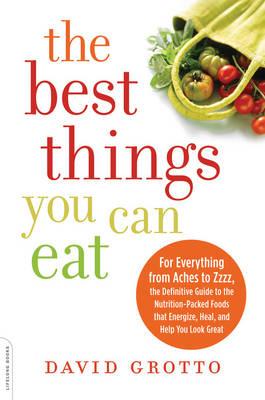 The Best Things You Can Eat (Paperback)
For Everything from Aches to Zzzz, the Definitive Guide to the Nutrition-Packed Foods that Energize, Heal, and Help You Look Great
Da Capo Lifelong Books, 9780738215969, 336pp.
Publication Date: January 8, 2013
* Individual store prices may vary.
Description
Is an orange or a guava the best source of vitamin C? Is farm-raised or wild salmon higher in omega 3 fats? If you've always wondered what foods to turn to when you need more fiber in your diet or which foods you can count on when you've got an upset stomach, The Best Things You Can Eat as the answers, and even a few surprises. Registered Dietitian and bestselling author David Grotto draws on the latest nutritional and scientific research to assemble the most authoritative compilation of food rankings ever produced. Here are just some of the useful lists you'll find inside:

* 8 Best Foods for Lowering Cholesterol
* Top 6 Foods to Control Your Blood Pressure
* 7 Best Foods for Stopping Bad Breath
* 5 Best Foods to Slow Down Aging
* Top 5 Foods for Numbing Aches and Pains
About the Author
David Grotto, RD, LDN, graduated with honors with a degree in medical dietetics and nutrition from the University of Illinois at Chicago. Formerly the national spokesperson for the American Dietetic Association, he is now the founder and president of Nutrition Housecall, LLC, a nutrition consulting firm that provides nutrition communications, lecturing and consulting services, and also offers personalized at-home dietary services.

He is the author of 101 Foods That Could Save Your Life and 101 Optimal Life Foods.

http://davidgrotto.wordpress.com/
Praise For The Best Things You Can Eat: For Everything from Aches to Zzzz, the Definitive Guide to the Nutrition-Packed Foods that Energize, Heal, and Help You Look Great…
"An objective and highly readable cornucopia of advice and information…Readers will find real answers about the nutrient content of all kinds of readily available foods, become aware of surprisingly healthy 'shocker foods,' and emerge more educated about food's health benefits—whether they're new to choosing healthier foods or not. This exhaustively researched book should be a top pick for any nutrition-conscious foodie."
Philadelphia Tribune, 3/8
"Whether readers are looking for something to settle an upset stomach, the best way to control blood sugar or the easiest source of vitamin D,
The Best Things You Can Eat
provides useful, accessible answers for healthy living."
Miami Herald, 3/19/13
"A great book about food, nutrition, and health should be informative not sensationalistic, accessible, science-based, and easy to nagivate…The Best Things You Can Eat is all that."
Midwest Book Review, March 2013
"Any collection strong in nutrition and health needs this solid connection between food choices and optimum health."
NewsBlaze.com (Australia), 3/12/13
"A highly recommended.
SharonPalmer.com, 12/11/2013
Library Journal, December 2012
"Comprehensive and fun for foodies."

Truth Magazine, 1/11/13
"A quick and informative read that does all of the legwork for you, The Best Things You Can Eat makes it a bit easier to take care of yourself in 2013."


Joy Bauer, MS RD CDN, Health and Nutrition Expert for NBC's Today show

"Dave has created the ultimate nutrition dictionary – he's boiled down all the confusing science into a handy, compact health resource that's incredibly easy to navigate. This book enables you to feel top of your game by helping you choose the very best foods to meet your specific health goals!"

Ellie Krieger, Host of Food Network's Healthy Appetite and author of Comfort Food Fix

"The Best Things You Can Eat is like a Fortune 500 for food—a who's who in nutritional wealth that celebrates the healthy bounty delicious real food provides. It's chock-full of smart, useful information written in an engaging, fun way that makes you want to pick it up for pleasure as well as knowledge."

EatDrinkBetter.com, 2/1/13
"An excellent reference book to have around the house."

About.com, 2/14/13

"Whether you have high cholesterol or high blood pressure or you're simply fighting the common cold, Grotto has sifted through the science to recommend top food picks based on sound science to help you heal."

Tampa Bay Tribune, 2/23

"Ever so infrequently, a nutrition book comes along that's accurate, simple to understand and serves as a handy reference. The Best Things You Can Eat…is one of those books…In very little time, the book will educate and empower you to take control of your own health.


Bookviews, March 2013

"An interesting and informative look at common foods and their benefits…Much of what [Grotto] relates is quite surprising in a good sort of way. I would recommend this book for anyone interested in learning more about what they eat daily."


AppforHealth.com, 3/1

"This isn't just an awesome food and nutrition resource, it's also a fun and relaxed read, thanks to the author's clever, down-to-earth writing style…This tome definitely won't end up collecting dust on your bookshelf—you'll find yourself consulting it with all your food-related questions."

Publishers Weekly, 3/4/13