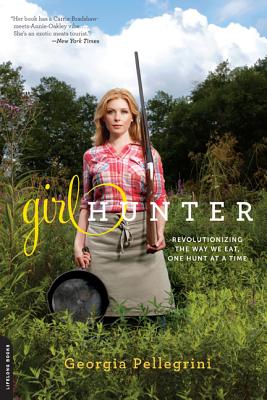 Girl Hunter (Paperback)
Revolutionizing the Way We Eat, One Hunt at a Time
Da Capo Lifelong Books, 9780738216058, 256pp.
Publication Date: January 29, 2013
Other Editions of This Title:
Digital Audiobook (3/29/2012)
Hardcover (12/13/2011)
Compact Disc (3/30/2012)
MP3 CD (3/30/2012)
Compact Disc (3/30/2012)
* Individual store prices may vary.
Description
What happens when a classically-trained New York chef and fearless omnivore heads out of the city and into the wild to track down the ingredients for her meals? After abandoning Wall Street to embrace her lifelong love of cooking, Georgia Pellegrini comes face to face with her first kill. From honoring that first turkey to realizing that the only way we truly know where our meat comes from is if we hunt it ourselves, Pellegrini embarks on a wild ride into the real world of local, organic, and sustainable food.
Teaming up with veteran hunters, she trav­els over field and stream in search of the main course—from quail to venison and wild boar, from elk to javelina and squirrel. Pellegrini's road trip careens from the back of an ATV chasing wild hogs along the banks of the Mississippi to a dove hunt with beer and barbeque, to the birthplace of the Delta Blues. Along the way, she meets an array of unexpected characters—from the Commish, a venerated lifelong hunter, to the lawyer-by day, duck-hunting-Bayou-philosopher at dawn—who offer surprising lessons about food and life. Pellegrini also discovers the dangerous underbelly of hunting when an outing turns illegal—and dangerous.
More than a food-laden hunting narrative, Girl Hunteralso teaches you how to be a self-sufficient eater. Each chapter offers recipes for finger-licking dishes like:
wild turkey and oyster stew
stuffed quail
pheasant tagine
venison sausage
fundamental stocks, brines, sauces, and rubs
suggestions for interchanging proteins within each recipe
Each dish, like each story, is an adventure from begin­ning to end.
An inspiring, illuminating, and often funny jour­ney into unexplored territories of haute cuisine, Girl Hunter captures the joy of rolling up your sleeves and getting to the heart of where the food you eat comes from.
About the Author
Georgia Pellegrini is the author of the critically acclaimed and IACP-nominated book Food Heroes. She has worked in renowned restau-rants in New York and in France, including Blue Hill at Stone Barns, Gramercy Tavern, and Michelin-starred farm-to-table restaurant La Chassagnette.

She chronicles her adventures in meeting food artisans and gathering her ingredients on her wildly popular blog GeorgiaPellegrini.com, which gets millions of hits per month.

Her work has been featured on Iron Chef Amer­ica, in Food and Wine Magazine, Town & Country, Shooting Sports­man, ESPN, Daily Candy, Boston Globe, Martha Stewart Radio, Gilt City, Fox, and various other mag­azines, TV, and radio programs. She currently roams the world hunting and gathering, tasting good food, and meeting the good people who make it.
Praise For Girl Hunter: Revolutionizing the Way We Eat, One Hunt at a Time…
Publishers Weekly, 6/27/11
"The Omnivore's Dilemma meets The Pioneer Woman Cooks: a provocative book that pushes the boundaries of the foodie revolution and considers why, how, and what we eat."

Ree Drummond, bestselling author of The Pioneer Woman Cooks, thepioneerwoman.com
"Georgia Pellegrini is a force: strong, articulate, beautiful . . . and she can hunt pheasant like no one's business. Having gotten to know Georgia in real life, I was already excited to read Girl Hunter . . . but what I didn't expect was that it would grab me by the arm and draw me in for days and days. I found myself nestling into my sofa to read each chapter, craving things like elk jerky and curried pigeon as I turned the pages. Georgia's irresistibly descriptive chronicling of her year of hunting, along with the unbelievably delicious, almost otherworldly, recipes she shares, sealed this book's permanent spot on my shelf. It is a timeless culinary classic."
 
Molly O'Neill, author of

One Big Table: A Portrait of American Cooking
"As the national conversation about food shifted from taste to theory and politics, Georgia Pellegrini got real. She packed her bags, learned to shoot, and went face-to- face with our food supply. Lyrically told with unflagging humor, this is a rare account of the gut-level reality of being an omnivore. Read it and Eat."
 
Steven Rinella, author of The Scavenger's Guide to Haute Cuisine and American Buffalo: In Search of a Lost Icon
"Within these pages, Georgia Pellegrini turns the common stereotype of a hunter inside out. Her examination of food, hunting, and personal history reveals a lifestyle that is stylish, contemporary, exciting, and on the cutting edge of American culture. Anyone who's undecided about hunting should listen to this woman. Anyone who loves hunting should listen even more."
 
Shauna James Ahern, author of Gluten-Free Girl and Gluten-Free Girl and the Chef
"Georgia Pellegrini did what I thought no one could do: keep me interested in reading more and more about hunting. Her open, curious nature, and the way she makes sentences sing through storms and funny moments, kept me reading Girl Hunter until late in the night. This is quite the book."
 

Gail Simmons, host of Top Chef: Just Desserts
"In Girl Hunter, Georgia Pellegrini goes where few women have dared – through swamps and forests, fields and streams, all in the name of a soul-satisfying meal. Her book captures perfectly not just the thrill of hunting and foraging for your own dinner, but also the very personal and profound impact of these unique experiences. She compliments her stories with mouth-watering recipes and food descriptions that will inspire you to befriend your local butcher and look at game in a whole new way. Reading each of Georgia's wild adventures made me want to pull on my Wellies and join her, rifle and skillet in hand."

Aarti Sequiera, host of Food Network's Aarti Party
"I never thought of hunting as the next inevitable step in the farm to table movement. Nor did I think of hunting as poetry in motion. Thanks to Georgia's eloquent little book, chock a block with equal parts respect and chutzpah, I have a whole new appreciation for hunting. Heck, I might even try it myself!"

Publishers Weekly, 11/21/11
"[Pellegrini's prose] falls somewhere between the culinary outdoorsiness of Jim Harrison and the urban insight of Candace Bushnell."

Flavorwire.com, 12/1/11
"if she can get her hands this dirty, and with such humor and charm, we kind of want to too."
Minneapolis St. Paul Magazine "Bizarre Foods" host Andrew Zimmern's 12/19/11
"I obviously have a huge food crush on Girl Hunter Georgia Pellegrini…and her book cover is my favorite of the year."
 
Minneapolis Star Tribune, 1/15/12
"The author's true love of food and cooking enhances this memoir, which examines hunting as a means to become a more conscientious chef and eater."
 
Santa Fe New Mexican, 12/30/11
"The recipes scattered about the book are as provocative and inspiring as her tales of back woods adventure and sustainable eating."
Max Watman, The Wall Street Journal, December 24, 2011
"Ms. Pellegrini takes the conversation on sourcing our food beyond the farmers market, beyond the local-pastured, organic meat of even the most specialized butcher's shop. She's gone into the fields for herself and echoes José Ortega y Gasset's philosophical defense of hunting—that there is something worthwhile in the wild, something we need, and that our modern lives don't scratch the itch, they only disguise it."

Wall Street Journal,12/24/11
"Ms. Pellegrini takes the conversation on sourcing our food beyond the farmers market, beyond the local-pastured, organic meat of even the most specialized butcher's shop. She's gone into the fields for herself and echoes José Ortega y Gasset's philosophical defense of hunting—that there is something worthwhile in the wild, something we need, and that our modern lives don't scratch the itch, they only disguise it."

Go Magazine, February 2012
"With a poet's eye toward a conscious dinner, Pellegrini takes her readers on a search, not just for wild game but for what she calls a 'primal part' of one's being. I couldn't stop reading as Pellegrini dug into this foray with gusto and blood, which gives her book an occasional Lord of the Flies feel that's usually abutted by thoughts so beautiful that you want to weep."

MacLean's, 2/1
"Girl Hunter is an evocative account of Pelligrini's gun-to-table experiences…It's an unlikely pairing of Nigella Lawson's culinary skills and Hemingway's grit."
or
Not Currently Available for Direct Purchase