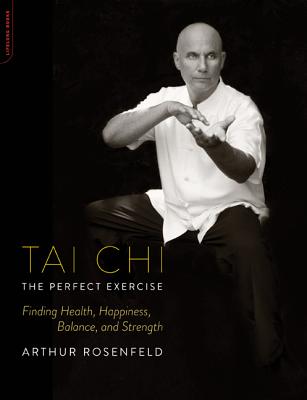 Tai Chi--The Perfect Exercise
Finding Health, Happiness, Balance, and Strength
Paperback

* Individual store prices may vary.
Description
The host of PBS's Longevity Tai Chi and leading Western Tai Chi master Arthur Rosenfeld offers a groundbreaking guide to the myriad mental and physical benefits of this ancient martial art, including easing chronic pain and illness, dealing with stress, and resolving conflicts more easily. Are you looking to develop your mind as well as your body? look no further than tai chi.
Praise For Tai Chi--The Perfect Exercise: Finding Health, Happiness, Balance, and Strength…
"This book is not a 'how to' but rather a 'why you should'—an extended meditation on some of the central philosophical and physical tenets of tai chi as well as the physical and spiritual benefits the art can provide. Rosenfeld wisely uses his personal experience as a practitioner and his nuanced understanding of Taoist principles to explain how tai chi practice builds health and leads to an enhanced understanding of the human body. Each chapter explains significant aspects of tai chi physical principles, philosophy and ideas, finishing with exercises at three different levels that are designed to permit the reader to blend physical experience with conceptual insight….This a valuable and mature meditation on the virtually limitless depths of this art." —John Donohue, author of the Connor Burke martial arts thrillers Sensei, Deshi, Tengu and Kage
"Deftly moving between the ideas behind the craft and its observable benefits—such as fine-tuned sensuality—the book serves as robust introduction for those curious about the practice."—PublishersWeekly.com, 6/28/13
"
As gentle as the regimen itself."—Infodad.com, 7/11/13
—
-
"Rosenfeld's
Tai Chi
is as unique a contribution to the martial art as Bruce Lee's Tao of Jeet Kune Do was to his. This muscular work weaves history and modernity with philosophy and combat to create a tapestry that transcends all disciplines. Tai chi will travel with you regardless of where you go and regardless of whether you take it." —Cameron Conaway, author of Caged: Memoirs of a Cage-Fighting Poet
"Arthur Rosenfeld is rightfully one of the foremost tai chi masters in this country if not the world. This mastery has spiraled into his writing. Although a Zen teacher, I have practiced tai chi for many years. This book has illumined my practice and offers fresh teaching examples in the areas of breath and energy that I can share with my students. I'm highly appreciative of his contribution with this work." —Mitchell Doshin Cantor, Sensei, The Southern Palm Zen Group
"Rosenfeld's book will improve your health and your mind. Easy and fun to read, it is filled with uplifting stories, lots to make you think about the world and plenty of easy-to-follow practical fitness advice. A delight." —Graeme Maxton, bestselling author and Fellow of the Club of Rome
—
-


"After my own decades of attempting to convey in ordinary English the deep and subtle insights of the Taoist traditions, I can appreciate the masterful contribution Arthur Rosenfeld had made with his Tai Chi—The Perfect Exercise. He brings sharp clarity to a subject too often shrouded in mystery and confusion." —Guy Leekley, author of Tao Te Ching: A New Version for All Seekers


"Whether you're a man or a woman, beauty starts from within. Trust Arthur Rosenfeld's easy-to-understand mind/body exercises to reduce your stress, increase your fitness, and transform you inside to out." —Peter Thomas Roth, CEO, Peter Thomas Roth Labs


"Arthur Rosenfeld is one of the most special and genuine voices in the arts today. Not persuaded by fame, attention or self-congratulatory actions; he walks a path that is unique, winding and full of discoveries, surprises and truth, not just for himself but for those lucky enough to align themselves with him." —Del Weston, Martial Artist, Producer, Writer, and Director

—-
Da Capo Lifelong Books, 9780738216607, 272pp.
Publication Date: June 4, 2013
About the Author
Master Arthur Rosenfeld is a Taoist monk and an authority on Eastern thinking for the Western world. His bestseller, The Truth About Chronic Pain, was a finalist for the Books for a Better Life Award. He lives in Florida. ArthurRosenfeld.com
or
Not Currently Available for Direct Purchase