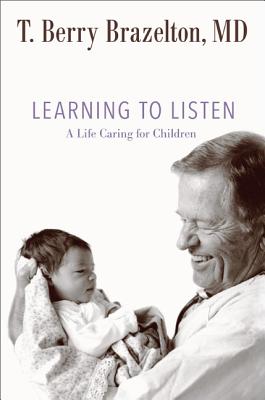 Learning to Listen (Hardcover)
A Life Caring for Children (A Merloyd Lawrence Book)
Da Capo Press, 9780738216676, 256pp.
Publication Date: April 30, 2013
* Individual store prices may vary.
Description
From his childhood in Waco, Texas, where he took expert care of nine small cousins while the adults ate Sunday lunch, to Princeton and an offer from Broadway, to medical and psychoanalytic training, to the exquisite observations into newborn behavior that led babies to be seen in an entirely new light, Dr. T. Berry Brazelton's life has been one of innovation and caring. Known internationally for the Touchpoints theory of regression and growth in infants and young children, Brazelton is also credited for bringing the insights of child development into pediatrics, and for his powerful advocacy in Congress.

In Learning to Listen, fans of Brazelton and professionals in his field can follow both the roots of a brilliant career and the evolution of child-rearing into the twenty-first century.


About the Author
T. Berry Brazelton, MD, is professor emeritus of pediatrics at Harvard Medical School and adjunct professor of psychiatry, human behavior, and pediatrics at Brown University. He lives in Cambridge, Massachusetts.

Praise For Learning to Listen: A Life Caring for Children (A Merloyd Lawrence Book)…
"[An] engaging memoir…Although many may know Brazelton from his books and TV show (What Every Baby Knows), here, he also chronicles his years of researching infants and families in such places as Kenya, Greece, Mexico, Guatemala, and Japan, with characteristic warmth and humor."
New York Journal of Books, 4/30/13
"[A] sensitive memoir [that] fills a gap as to the theoretical and practical roots of contemporary child raising practice. Learning to Listen is a timely reminder (on Brazelton's 95th birthday) of his huge contribution to child rearing…A compassionate glimpse at the young boy and man who became such an internationally trusted pediatrician…Learning to Listen is a must-read for professionals and lay people alike—anyone interested in babies and in parenting."
Wall Street Journal, 5/15/13
"At 95, pediatrician T. Berry Brazelton ranks as the éminence grise of infant and child development…a celebrity long before Dr. Oz or Dr. Phil…Many of his ideas about caring for sick children—such as letting parents be at the hospital 24/7—are now standards of care…The general tone of
Learning to Listen
is one of gratitude and joy at being able to help facilitate the parent-child relationship."
Boston Globe, 5/12/13
"Having tended to the needs of countless families for a half-century, the Cambridge resident and Harvard Medical School professor emeritus has turned his attention to his own upbringing."
InfoDad.com, 5/16/13
"An autobiography, and a suitably modest and outwardly focused one, at that. Brazelton's plainspoken style is as much a part of this book as it is of all his others…By the end of
Learning to Listen,
readers will realize that there are two equally valid ways to read the book's subtitle:
A Life Caring for Children
as in 'a life taking care of children' and, equally correctly, as in 'a life caring
about
children.' The two ways together sum up a great deal of what is special about T. Berry Brazelton."
Library Journal, 6/01/13
"A fascinating account of a long and distinguished career in medicine and an education in child-care techniques."
Boston Parents Paper, June 2013
"Memoir readers will be surprised by what they learn about America's beloved doctor, who's done much to improve how we perceive and treat children."
Bookviews, June 2013
"This is a most interesting memoir to read."
Spirituality & Practice, 7/10/13
"[An] accessible and sprightly memoir."
Kirkus Reviews, 4/1

"The most fascinating parts of the memoir are most likely to be [Brazelton's] accounts of his experiences studying newborns in other cultures: Mayans in southern Mexico, Guatemalans, Kenyans, urban and rural Japanese, Chinese, Navajos in Arizona and Greeks on the island of Thera…Readers familiar with Brazelton's books and articles on babies and children may relish this close-up look at the man who guided them through the vicissitudes of parenthood."

Booklist, 5/1/13

"[An] affable memoir…It takes a special person to be a pediatrician, and Dr. Brazelton's remarkable life stamps him as a truly exceptional one."

Boston Globe, 4/26/13

"Colorful stories."


InfoDad.com, 4/25/13

"Very well written in a very New York if not quite New Yorker style, elevated and erudite and seeming to stand back from and examine experience even while experiencing it…[Gross] is certainly well-traveled and has met and written about some very interesting people."

Publishers Weekly, 5/6/13



"A wonderful autobiography...marked by interesting history, wise insights for parents and children, and marvelous stories."—Paul C. Holinger, M.D., Psychology Today blog

Coverage from NPR