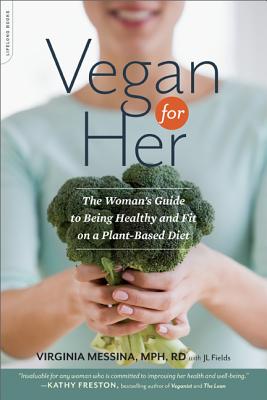 Vegan for Her (Paperback)
The Woman's Guide to Being Healthy and Fit on a Plant-Based Diet
Da Capo Lifelong Books, 9780738216713, 400pp.
Publication Date: July 9, 2013
* Individual store prices may vary.
Description
Vegan for Her, a blueprint for optimal health and wellness at any age, will show you how to: lower your risk for breast cancer and heart disease; manage conditions like arthritis and migraines; diminish PMs and cramps; build strong bones for life; enhance fertility; make an easy transition to a vegan diet; and incorporate principles of both fashion and compassion into your home and wardrobe.
About the Author
Virginia Messina, MPH, RD, writes and speaks on vegan nutrition for consumers and health professionals. She lives in Washington state. TheVeganRD.com

JL Fields is a vegan lifestyle coach, post-40 athlete, and noted food blogger. She lives in New York. JLGoesVegan.com


Praise For Vegan for Her: The Woman's Guide to Being Healthy and Fit on a Plant-Based Diet…
"
Vegan for Her
is just the book I want to give to all the women in my life—younger and older, vegan and nonvegan. Every woman can benefit from the wisdom in this book, wisdom that is distilled into an easy-to-read format and is essential advice for anyone who wants to live a more healthful, compassionate, and informed life. This book is definitely going to be added to my reference shelf!" —Melanie Joy, PhD, author of
Why We Love Dogs, Eat Pigs, and Wear Cows
; Founder and President of Carnism Awareness and Action Network
"A fantastic science-based resource by one of the giants in plant-based nutrition." —Michael Greger, M.D., Founder of NutritionFacts.org
"A comprehensive guide that tackles everything from the basics of transitioning to and following a plant-based diet, to how it can be used to manage complex health problems such as osteoporosis, diabetes, and heart disease."—
Portland Oregonian
, 7/8/13
"Comprehensive…A strong choice for women who follow, or want to follow, a plant-based diet."—
Publishers Weekly, 7/15/13
"Women who are already considering becoming vegans will find considerable support for their decision here, as well as practical recommendations on how to adapt the vegan approach to various stages of their lives."—Infodad.com, 8/1/13


"This is the definitive book for any and all questions on vegan nutrition. The guidance herein is smart, succinct, and invaluable for any woman who is committed to improving her health and well-being." —Kathy Freston, bestselling author of Veganist and The Lean


"Bursting with advice, nutritional information, engaging snippets, and delicious whole food, plant-based recipes, this book is a must-have for every woman making the shift to this most healthful, compassionate way of living." —Colleen Patrick-Goudreau, bestselling author, award-winning podcast producer, and creator of The 30-Day Vegan Challenge


"Ginny Messina's clear, balanced and approachable vision of vegan health is a breath of fresh air in today's nutrition information overload. Read her work, relax and know you're in good hands." —Terry Hope Romero, author of Vegan Eats World and coauthor of Veganomicon


"This is an exceptional book for vegan and not-yet-vegan women everywhere. Ginny Messina has outdone herself when she created this ultimate go to guide for women during all aspects of their lives and has made being healthy cool and easy." —Annie Shannon, coauthor of Betty Goes Vegan



"Ginny Messina is one of the world's most highly respected pioneers of vegan nutrition. Her work is clear, insightful and meticulous. No matter where you are at on your vegan journey, this book will serve as an invaluable companion." —Brenda Davis, RD


"Vegan for Her is an excellent and articulate resource for every woman who wants to eat with compassion while protecting and enhancing her health." —Carol J. Adams, author of The Sexual Politics of Meat and Living Among Meat Eaters


"Vegan for Her provides sensible guidance for women of all ages. Whether your focus is sports nutrition, eating to prevent cancer or heart disease, or simply understanding how a plant-based diet can meet your unique needs, this book is for you. It's like a conversation with a savvy, caring friend." —Reed Mangels, PhD, RD, author of The Everything Vegan Pregnancy Book and coauthor of Simply Vegan



"Thinking of going vegetarian or vegan? If so, and you're a woman, don't miss Vegan for Her."—Hudson Valley News, 7/31/13


"Useful information for vegans and those transitioning to or considering a vegan diet. Well-organized."—Entertainment Realm, 8/7/13

EatDrinkBetter.com, 12/27/2013

"Whether you're a seasoned long-time plant eater or just stepping onto the vegan path, Vegan for Her offers a wealth of vital information for women interested in going (and staying!) healthfully vegan."

Vegetarian Journal, Vol 33 Issue 2, 2014

"Vegan for Her is a highly useful resource for vegan women of all ages, but it's also a great starting point for any woman who is considering a vegan diet. I highly recommend it and will be giving copies to my daughters."

Today's Dietitian, May 2014
"Aimed at new and veteran vegans as well as those who love to cook and those who don't, Vegan for Her teaches women how to make intelligent dietary choices for a longer and healthier life… A great comprehensive guide."