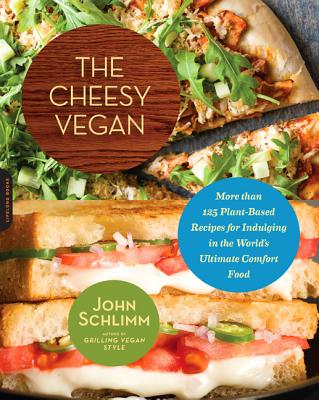 The Cheesy Vegan (Paperback)
More Than 125 Plant-Based Recipes for Indulging in the World's Ultimate Comfort Food
Da Capo Lifelong Books, 9780738216799, 256pp.
Publication Date: October 1, 2013
* Individual store prices may vary.
Description
Long regarded as the missing link in the plant-based world, vegan cheese has come home to Main Street! With more than 125 recipes for every cheesy craving, John Schlimm has you covered from breakfast to lunch to a hearty dinner with family and friends. From easy recipes for everyday cheeses (including Cheddar, Swiss, mozzarella) to ultimate comfort food like Mac 'n' Cheese, Cafe Broccoli & Parmesan Quiche, Triple Your Pleasure Fondue, and the Cheesecake Extravaganza, you can include in all your cheesy favorites ... with none of the dairy.
About the Author
John Schlimm is a member of one of the oldest brewing families in the US. He is the international award-winning author of several books, including The Ultimate Beer Lover's Cookbook (awarded the "Best Beer Book in the U.S." and "Best Beer Book in the World" by the Gourmand Awards), Harrah's Entertainment Presents…The Seven Stars Cookbook, Tipsy Vegan, and Grilling Vegan Style, among other titles. He holds a Master's degree from Harvard University, and travels the country speaking about cooking, entertaining, and public relations. He lives in Pennsylvania.
Praise For The Cheesy Vegan: More Than 125 Plant-Based Recipes for Indulging in the World's Ultimate Comfort Food…
Publishers Weekly (website), starred review, 9/23/13

"Even omnivores may want to give John Schlimm's…latest vegan endeavor a look. Vegans who were cheese lovers in a former culinary life will likely find this to be nothing short of revelatory. Schlimm's cheeses are all approachable—even those who usually steer clear of the kitchen may take a gander. A terrific addition to any vegan's library."


EntertainmentRealm.com, 10/17/13

"Newer vegans or those who really really miss cheese will adore this cookbook."


Edible Charlotte, Winter issue

"This cookbook offers recipes that you'll want to try, whether vegan or not."


EatDrinkBetter.com, 11/24/13

"Bake a cheesecake from the cookbook and take it to a party. You're sure to be a hit."

San Francisco Book Review, 2/3/14

"Delightful…Get Ready to Indulge!"

Energy Times, 3/28/14
"Author John Schlimm…gets the party started."

Joplin Globe, 4/28/14
"A helpful starting point."

Taste for Life, June 2014
"Cheese is back on the table!"

The Advocate, 7/7/14
"Helps you go vegan without giving up the ultimate comfort food: cheese."