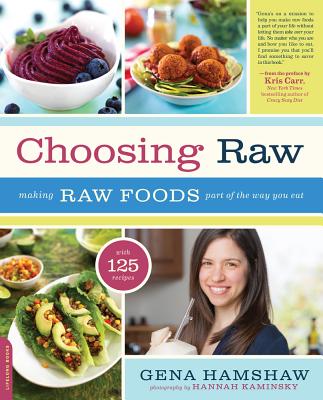 Choosing Raw (Paperback)
Making Raw Foods Part of the Way You Eat
Da Capo Lifelong Books, 9780738216874, 288pp.
Publication Date: July 1, 2014
* Individual store prices may vary.
Description
After her health journey led her to a plant-based diet, Gena Hamshaw started a blog for readers of all dietary stripes looking for a common– sense approach to healthy eating and fuss–free recipes. Choosing Raw, the book, does in an in depth manner what the blog has done for hundreds of thousands of readers: addresses the questions and concerns for any newcomer to veganism; makes a plant–based diet with many raw options feel easy instead of intimidating; provides a starter kit of delicious recipes; and offers a mainstream, scientifically sound perspective on healthy living.

With more than 100 recipes, sumptuous food photos, and innovative and wholesome meal plans sorted in levels from newcomer to plantbased pro, Hamshaw offers a simple path to health and wellness. With a foreword by Kris Carr,New York Times–bestselling author of Crazy Sexy Diet, Choosing Raw is a primer in veganism, a cookbook, the story of one woman's journey to health, and a love letter to the lifestyle that transformed her relationship with food.

About the Author
Gena Hamshaw is a certified clinical nutritionist and author of the popular blog Choosing Raw. Her work has been published in O Magazine, VegNews Magazine, Food52,and Whole Living Daily. A former book editor, Gena is currently a pre-medical, post-baccalaureate student. She hopes to bring an integrated and evidence-based approach to a career in health care.
Praise For Choosing Raw: Making Raw Foods Part of the Way You Eat…
"I've been a fan of Gena since I first started reading her blog in 2009. Her approach is logical, and her recipes are easy to make, functional and delicious.
Choosing Raw
is an excellent book."—Brendan Brazier, author of
Thrive
and
Thrive Energy Cookbook
"A breath of fresh air—and whiff of fresh cuisine—
Choosing Raw
is a delightful take on food as is should be: colorful, beautiful, delicious. The recipes are a joy (they work!) and the informational portions of the book are Gena Hamshaw at her smart and friendly best, replacing the confusion that so often surrounds nutrition with good sense and great food."—Victoria Moran, author of
Main Street Vegan
and director, Main Street Vegan Academy
"With menus that make meal-planning a breeze and recipes that fit easily into a busy schedule,
Choosing Raw
is the go-to cookbook and guide for anyone interested in incorporating more raw and vegan meals into their daily routine."
—Kathy Patalsky, author of
365 Vegan Smoothies
and creator of Lunchboxbunch.com
Food52.com, 7/8/14
"Will come in handy on all of those days when you don't want to acknowledge your stove's existence."
StyleBistro.com, 7/1/14
"Fantastic for beginners and healthy food veterans alike."
"Gena's inspiring collection of fresh, uncomplicated, and mouth-watering vegan recipes prove that a healthy diet doesn't have to be intimidating or time-consuming."—Angela Liddon, author of the New York Times bestseller, The Oh She Glows Cookbook and creator of OhSheGlows.com

"I'm one of those people who will eat healthy as long as it's easy; Gena's book has made that possible! The recipes herein are infinitely do-able, and tasty, and they're wholesome to boot."—Kathy Freston, author of the New York Times bestseller, The Lean

"Warmly written and packed with recipes that are both simple and spectacular, Choosing Raw makes healthy eating fun, delicious and completely accessible. Gena's easy-to-digest nutrition information and foolproof food preparation techniques will let you explore the world of vegan and raw foods with complete confidence."—Virginia Messina, MPH, RD, author of Vegan for Herand Never Too Late to Go Vegan

"As an integrative gastroenterologist, I can't think of a better resource than Choosing Raw for anyone interested in healing their digestive tract, or improving their overall health."—Dr. Robynne Chutkan, author of Gutbliss: A 10-Day Plan to Ban Bloat, Flush Toxins, and Dump Your Digestive Baggage

Spirit and Destiny, August 2014
"Looking for ways to make your diet healthier but feel raw food is a step too far?...A flick through this book could change your mind."

CleanPlates.com, 7/22/14
"Raw food blogger and author Gena Hamshaw has us swearing up and down to add more raw foods to our diet after reading her new release, Choosing Raw…Her approach feels easy and refreshing, instead of intimidating."

Portland Oregonian, 7/22/14
"Following a raw vegan diet is widely perceived as difficult, intimidating and time-consuming, which is ironic when you think about it, since the idea of uncooked dishes seems like it ought to be easy. But nutritionist Gena Hamshaw shows that it can be uncomplicated and creative, going way beyond basic salads and green smoothies…[she] strives to hit the right balance between cooked and uncooked ingredients, a commonsense approach that's more accessible than the extreme all-raw focus some books advocate."

InfoDad, 7/24/14
"Sensible…for people already thinking about eating more raw foods—for whatever reason—Choosing Raw can be a reasonable place to get more information on how, if not why, to move into the raw-food arena."

Hudson Valley News, 7/30/14
"This book answers the questions, 'Can you get the nutrition you need from a plant-based diet?' and 'can those raw and vegan foods still taste satisfying and delicious?'…And unlike many books of all kinds…this one has an introduction that is truly a joy to read."

Library Journal, 9/15/14
"Among vegan cookbooks, this volume will appeal most to those who are interested in better understanding a vegan diet and curious about raw foods."

Midwest Book Review, September 2014
"Packed with details on how to embrace raw foods while on a budget, and discusses everything from getting enough nutrition from a plant-based diet to making the most of raw-based meals…The result is a fine survey highly recommended for any interested in the basics of adopting a raw diet plan."

T.O.F.U. Magazine, 10/15/14
"As informative as it is delicious."

Portland Press Herald, 11/5/14
"Blogger and nutritionist Hamshaw pulls together 125 of her mostly raw but also cooked vegan recipes that will guide raw-interested readers away from the world of detox diets and juice fasts and toward healthy, hearty food. The book is loaded with answers to common questions, myth-busting information about raw foods and details about ingredients and kitchen tools."