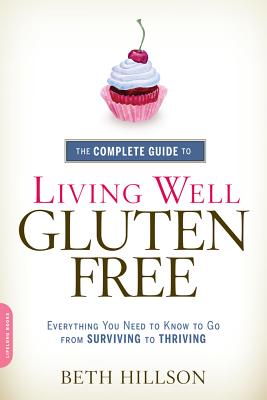 The Complete Guide to Living Well Gluten-Free
Everything You Need to Know to Go from Surviving to Thriving
Paperback

* Individual store prices may vary.
Description
Going gluten-free? Go here first.

Whether you've been diagnosed with a gluten-related condition or you're just striving for a healthier diet, you know that adopting a gluten-free lifestyle is easier said than done. Beth Hillson, president of the American Celiac Disease Association, was diagnosed forty years ago, and she knows these challenges firsthand. For decades, she has been a guru in the gluten-free community, answering questions about everything from diagnosis to food to lifestyle. Now, Beth combines her personal expertise with the latest research to offer:

Essential info on celiac disease, gluten sensitivity, wheat allergy, and other gluten-related disorders
Advice on choosing a doctor, getting tested, and exploring treatment options
The basics of the GF diet, including setting up a safe kitchen and simple recipes
Guidance on living as a blended-diet family and raising gluten-free kids
Frank answers to personal questions on topics from "gluten smooching" to gas
Praise For The Complete Guide to Living Well Gluten-Free: Everything You Need to Know to Go from Surviving to Thriving…
"Beth Hillson's comprehensive book is informed by decades of experience that will empower you to navigate the world of gluten intolerance with absolute confidence. And her delicious recipes along with an abundant 'you can have it' attitude will inspire you to actually have fun, too!"—Tess Masters, author of The Blender Girl: Super-Easy, Super-Healthy Meals, Snacks, Desserts & Drinks—100 Gluten-Free, Vegan Recipes

"Loaded with practical information on how to successfully live a gluten-free life, coupled with Beth's engaging style and a healthy dose of laughter, makes this book a real winner!"—Shelley Case, RD, consulting dietitian and author of Gluten-Free Diet: A Comprehensive Resource Guide

"The Complete Guide covers every single thing you need to know about keeping gluten-free, instantly making you smarter, safer, and probably better looking."—April Peveteaux, author of Gluten Is My Bitch: Rants, Recipes, and Ridiculousness for the Gluten-Free

Gluten-Free &More, October/November 2014
"The real meat lies in her valuable wisdom: naming companies you can trust, ingredients you can use, practices you can follow. All with an attitude that celebrates living well, gluten-free. A must read."

Da Capo Lifelong Books, 9780738217086, 368pp.
Publication Date: September 9, 2014
About the Author
Beth Hillson is one of the leading experts on the gluten-free diet and lifestyle in the United States. She is the president of the American Celiac Disease Alliance. She is also the founder of one of the first gluten-free companies, Gluten-Free Pantry, as well as the author of Gluten-Free Makeovers and the Food Editor of Gluten-Free & More (formerly Living Without, the leading magazine for gluten-free and other special diets. She lives in Connecticut.

glutenfreemakeovers.com
or
Not Currently Available for Direct Purchase