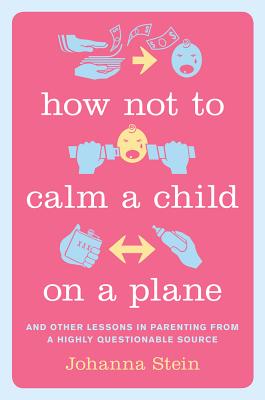 How Not to Calm a Child on a Plane (Hardcover)
And Other Lessons in Parenting from a Highly Questionable Source
Da Capo Lifelong Books, 9780738217345, 256pp.
Publication Date: April 29, 2014
* Individual store prices may vary.
Description
Looking for the perfect book to help you survive childbirth and parenting with your sanity intact?

Look elsewhere.

For Johanna Stein (writer/comedian/forward/slash/abuser and occasionally neurotic/immature/way-too-candid mom), parenting is an extreme sport. Her stories from the trenches may not always be shared experiences—Have you ever wondered if your baby's "soft spot" is like a delete key? Trained your preschooler for a zombie invasion? Accused a nearly nude stranger of being pregnant? Made sweet, bimonthly love to your spouse while your toddler serenaded you through the adjoining wall? Attempted to calm your screaming baby on an airplane with a hand puppet, only to have it lead to one of the most disgusting experiences of your life?—but they will always make you laugh.

So, no, this book won't teach you how to deal with nipple blisters or Oedipal complexes. But if you want to learn why you should never attempt to play a practical joke in the hospital delivery room, then you're in the right place.
About the Author
As a writer, director, and actor, Johanna Stein's work has appeared on Comedy Central, Nickelodeon, PBS, HBO, CBS, the Oxygen Network, VH1, the Disney Channel, and all across the Internets, where her comedy shorts, PSAs, and popular Yahoo! web series "Life of Mom" have been viewed millions of times. In addition to her TV and film work, Johanna's essays have been published in such outlets as the New York Times, Parents Magazine, and the Huffington Post.

Johanna lives in Southern California with her husband, their daughter, and a tiny boy-faced dog who once ate a couch.

johannastein.com

Praise For How Not to Calm a Child on a Plane: And Other Lessons in Parenting from a Highly Questionable Source…
WanderingEducators
"Have you ever held treasure in your hands? You know, those books that make you laugh out loud throughout the entire book, nod your head in agreement, text best friends great lines, and induce a flurry of both written and oral recommendations on book sites and in person? I bet you can count these rare treasures on your fingers (maybe the fingers on just one of your hands). I now have three fingers held up (for my favorite funny writers: David Sedaris, Jenny Lawson, and Johanna Stein)…because another great book has been added to this joyful treasure chest of goodness—comedian and writer Johanna Stein's
How Not to Calm a Child on a Plane (And Other Lessons in Parenting from a Highly Questionable Source)
. It's hilarious, honest, wry, life-affirming, and a great way to laugh about the vicissitudes of parenting."
When Crazy Meets Exhaustion
"Oh yeah. Vomit, death, F-bombs, and illegal placentas. ALL part of the gut-busting book,
How Not to Calm a Child on a Plane
…Johanna doesn't write; she creates. She creates this world with vivid colors and hilarious characters and describes them in such a way that you feel like you're on this acid trip of funny with her."
Mamalode.com, 7/23/14
"The world's most relatable book…You'll laugh. You'll cry. You'll take notes."
Parents.com, 6/12/14
"[Johanna Stein is] The Funniest Mom We Know…. If you're looking for a down-to-earth voice that lets you know you're not alone in a world of tough questions and embarrassing moments, How Not to Calm a Child on a Plane might become your new best friend. In Stein's book debut, her self-deprecating humor will make you laugh out loud and inspire you to take the heart-stopping, forehead-slapping, blush-inducing moments of parenting a little more lightly. How Not to Calm a Child on a Plane is packed with brutally honest stories that will comfort any parents who sometimes feel inadequate (i.e. all parents) and will have even non-parents cracking up…Her voice is an ally for parents who just might learn to laugh at themselves too."
Philadelphia Tribune, 6/8/14
"A series of witty essays on author Johanna's Stein's foray into parenthood. Stein's humor is infused with the tone of a mother who isn't afraid to tell it exactly like it is, but who, at the root of all the fart jokes and hysterical footnotes, loves her life as a parent…Stein has created a parenting book for what really to expect as a parent."
Library Journal, 5/14/14
"While the author might proclaim herself as a 'questionable source' when it comes to parenting, her credentials in chuckles as undisputed…Stein has such a delightfully immature sense of humor…that the reader feels compelled to continue reading in anticipation of what she might possibly say next…Stein gives a laugh-out-loud presentation sure to be a hit with the no-punches crowd."
New York Times
"A book that grew from a now-classic Motherlode essay of the same title, this is the rare funny book on becoming and being a mother that doesn't sound as if you've read it before (probably because it is chock-full of things most of us would never, ever say)."
"Johanna Stein has a way of taking the good, the bad, and the ugly and turning it into a delicious piece of candy. ('Mind candy' of course, as real candy is 'bad' for you, as any good mother knows). Simply put: I love her writing. I love the way she lays it all out there with such honesty and candor and tremendous relatability."—Mo Collins, actress and comedian,
MADtv
,
Parks and Recreation
"Johanna Stein's wit, humor, compassion, and quirky underdog view on life make her stories a pure joy to read. I just cannot get enough of her writing."—Tracy Vilar, actress,
House M.D.
"Since her days as a comic with a guitar, writer/comedienne Johanna Stein has never failed to surprise, delight, and blow audiences away with her fearless storytelling. And when I say fearless, I don't mean the, 'Gee, sometimes my kids make me so mad I want to have two glasses of chardonnay!' kind. No, I mean fearless in the making you gasp, 'Oh she did not do that!' way. Stein is the kind of writer we all aspire to be, the fab girl next door who lures you in with unadorned honesty and witty prose and then slams you in to the messy truth in such a viscerally compelling way that you cannot not be moved to laughter, to tears, and most of all to appreciating the great joy of what it means to be human."—Dani Klein Modisett, writer/producer/editor,
Afterbirth
, Huffington Post contributor
"Johanna Stein's essays make me laugh way too loud, way too hard, and way too long. She's like the David Sedaris of moms."—Annie Mumolo, cowriter, Bridesmaids

"These stories will make milk shoot from one of your nostrils and a martini from the other. Johanna Stein brings to mind the unflinching honesty and compassion of Nora Ephron."—Nia Vardalos, My Big Fat Greek Wedding, New York Times bestselling author, Instant Mom

"Johanna Stein is one of the funniest women on the planet."—Alanis Morissette

"It is dangerous to read her any place where it is inappropriate to laugh uncontrollably. It is also dangerous to read her if your bladder control is not what it once was after childbirth. But once you soldier through and do read her, you have made a friend—one who 'gets it' and makes 'it' easier to do because she's on your team."—Lisa Belkin, bestselling author, Senior Columnist, Huffington Post

"Much more than 'mommy lit,' this book will make any reader laugh so hard they'll pee a little. Or maybe a lot."—Beth Littleford, actress and The Daily Show correspondent

"Johanna Stein is lovely, insightful, and a big bowl of funny."—Jeff Garlin, comedian/writer/producer, Curb Your Enthusiasm, The Goldbergs