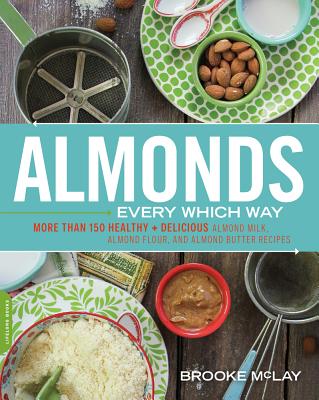 Almonds Every Which Way
More than 150 Healthy & Delicious Almond Milk, Almond Flour, and Almond Butter Recipes
Paperback

* Individual store prices may vary.
Description
Almonds are everywhere, and with good reason! Full of vitamin E, magnesium, protein, fiber, calcium, and more, this superfood delivers lots of health benefits in a delicious little package. When almonds are made into grain-free flour, non-dairy milk, and nut butter, these easy alternatives to wheat flour, dairy, and peanut butter support a variety of diets--vegan to gluten-free, vegetarian to Paleo. Whether you're following a particular way of eating or just looking to add variety to your cooking,
Almonds Every Which Way
offers key info for incorporating more nutritious foods into your diet, including:


Basic recipes for homemade almond milks, butters, and flours


Easy tips and tricks for using and storing almond ingredients


Nutritional info for each recipe


Designations for gluten-free, allergy-free, dairy-free, vegetarian, vegan, and Paleo options


And, of course, the recipes: you'll find more than 150 scrumptious almond-based dishes, from breakfast favorites like smoothies, pancakes, and croissants, to sandwiches, snacks, and easy, family-pleasing entrees like fish tacos and vegan "neatloaf." With
Almonds Every Which Way
, you'll have every diet, meal, and taste bud covered.
Praise For Almonds Every Which Way: More than 150 Healthy & Delicious Almond Milk, Almond Flour, and Almond Butter Recipes…
Examiner.com, 4/2/14
"Now we finally have the cookbook that offers the secrets of using almonds every way possible…You'll get all the information that you need (without the worry) to find the recipes that fit into your own diet's directions, from dairy-free to grain-free to Paleo and beyond."

Bookviews, April 2014
"If you like almonds, you will love Almonds Every Which Way."

Booklist, 4/16/14
"In her celebration of all things almond, food writer and recipe developer McLay caters to many distinctly different palates—Paleolithic, dairy-free, gluten-free, grain-free, vegan, vegetarian, and, of course, those without dietary restrictions—which guarantees her book will appeal to the broadest swath of the population."

San Francisco Book Review, 4/25/14
"A nice, well-rounded cookbook with may good recipes from breakfast through desserts…The recipes are well-written with easy-to-follow instructions, all with great layouts and relatively few ingredients."

Infodad.com, 5/8/14
"A delight for anyone who wants to spend a great deal of kitchen time with all things almond."

Portland Press Herald, 9/17/14
"Friendly and informative, never preachy, and the recipes are not complicated."


Da Capo Lifelong Books, 9780738217383, 272pp.
Publication Date: March 11, 2014
About the Author
Brooke McLay is food writer, food photographer, and recipe developer for Disney's Babble, Tablespoon.com, Good Cook, Coupons.com, and SuFru. She lives in Salt Lake City with her four groovy kids. Find more of Brooke's original quick, simple, healthy recipes on her blog, CheekyKitchen.com.

@CheekyKitchen